KOOK

Many right-wing, fanatical tea-party types are angry at Obama not only for his having traded the five top Taliban leaders being held at Guantamo in exchange for the U.S. Army deserter, Bowe Bergdahl but also for his not having taken steps to seek the release of the Marine hero, Sgt. Andrew Tahmooressi, being held in a Mexican prison for having mistakenly crossed into Mexico as a result of confusing road-construction-work signs near the border.
Now, in the wake of right-wing, fanatical tea-party critics of President Obama for his
failure to even bring-up the status of his Marine-hero Sgt. Andrew Tahmooressi during Obama's personal teleconference meeting with Mexico's President Peña Nieto
, President Obama explained the foreign-policy nuances of when to leave-behind the leave-no-one-behind policy:
"As I've always said, 'Leave no deserter behind, but leave Marine hero Sgt. Andrew Tahmooressi in a Mexican jail on bogus charges.'"
--KOOK

Comrade Sovremennyy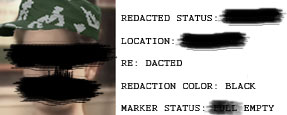 How dare he cross the border with weapons and into a sovereign country! People like this should be deported forced to live in the ruins of capitalism!


Ivan the Stakhanovets

Ambassador Steven's office has still yet to comment on the "leave no one unsodomized behind" policies of the Administration...


Anyer Marx

There should be no complaints as the photographic evidence shows that our The 0ne Dear Leader™ took time out from his official duties (golf and
begging for
seeking contributions
in exchange for favors
for The Party) to go and personally be with Sgt. Tahmooressi while the Sgt. checked into his room at the Mexican resort.
There are, of course, many valid reasons for letting the Mexican authorities entertain the Sgt. indefinitely: he made a wrong
right
turn into Mexico, which cannot be condoned; science has shown that Marine veterans will join terrorist groups like the <spit> Tea Party <spit, spit and ptoohey>; he might return with the gun; and, his return would result in yet another strain on our overworked Veteran's Administration personnel (though they could probably use the bonus associated with the Sgt's status on the waiting lists, but his actual presence is not required for that).