Leninka

[center]
[/center]
Comrades,
Tonight is the night that the People's Beauty Non-Contest
Mystery Prog
will be revealed at 8:00 p.m. Eastern Standard time. That's 5:00 p.m. for those of you on the Left Coast.
I'll give you one hint. Our Mystery Prog is a Left Coast Comrade.
To catch up on all that has happened already, or to cast your vote,
Click Here
.

Leninka

Our Mystery prog is having a little trouble in the dressing room. She wants to look her best for you, so hold on. It will be worth the wait.


Red Rooster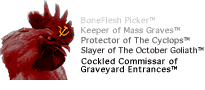 So many contestants have joined the ranks, so much glamor and glitz, so much progressive wonder, which makes me wonder why Rethuglicans don't just join The Party™?


Leninka

THE MYSTERY PROG BEAUTY QUEEN CONTESTANT HAS BEEN REVEALED!
Thanks to Comrade Red Rooster for getting her ready.
Bruno really does have some competition now. Next to Bruno, I think the mystery prog is the most BEE-OO-TEE-FULL of them all.
Comrade Red Rooster,
Thank you so much for all the work you did dressing up the mystery prog. Working in the beauty contest dressing room gulag is a thankless job, especially with these temperamental divas. When you're through working with them, you realize they have robbed you of all your energy.
Oh, speaking of divas, the one you brought in this afternoon? You know, Ashley? Can you believe she thinks she has a chance against Bruno and you know who?
Oh, well, I'll get her photo into the post, anyway.