Opiate of the People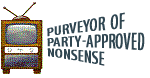 Comrades, the evil propagated by the despicable BusHitler regime continues to claim victims. An honorable, hard-working people's journalist has just lost his mind, probably becuase he could not stand the terror, horror, tyranny and injustice of Rethuglican capitalism any longer. I give you the evidence (via Ace of Spades HQ:
http://minx.cc/?post=282687
):
Jack Cafferty
NEW YORK (CNN) -- Well, that didn't take long. Three weeks into the new administration and the Democrats are squandering their advantage and threatening to snatch defeat from the jaws of victory.

Credit House Speaker Nancy Pelosi for getting the ball rolling. Under her leadership, House Democrats excluded Republicans from having any voice in crafting the stimulus package.

[snip]

Apparently tone deaf to the disgust and disappointment of Americans with the bailout package for Wall Street and the banks last year, as well as the voters' strongly stated desire for change as represented by the election of Barack Obama, House Democrats set the table for failure -- again.

Not a single Republican in the House voted for the bill, despite efforts by our new president to reach out to the other side. Nancy Pelosi strikes again.

When asked if the lack of Republican support was at least partly her fault, she gave some snotty answer about not being partisan but working for the American people. Right.

My guess is President Obama is busy these days sticking pins in his Nancy Pelosi doll. To his credit, Obama argued against a lot of the pork while stressing that time is our enemy. Pelosi could care less.

As the legislation headed for the Senate amid cries for more stimulus and less pork, the Republicans pounced. Sensing yet another Democratic miscalculation, the Republicans seized the advantage in the debate.

They want more tax cuts and more real stimulus -- stuff that will create jobs now. Not some pie in the sky proposal that may pay dividends years down the road. And they're right.

[snip]

Meanwhile, angry voters are jamming Capitol Hill phone lines screaming about the politics as usual that is so far the hallmark of the new administration. Welcome to Washington, Mr. Obama.

When it comes to the Democrats under Nancy Pelosi, what was it Pogo used to say? "We have met the enemy and it is us."

Read the whole thing if you dare:
http://www.cnn.com/2009/POLITICS/02/10/cafferty.house/index.html
Comrades, clearly Mr. Cafferty is deranged and needs long term
imprisonment
psychiatric help, preferably at one of the People's
Gulags
fine public mental institutions. To trash an honorable, socially-just, bi-partisan, wonderful, caring,
kleptocrat
public servant like Comrade Nansky is PROOF that the man has gone nuts! But, we in the Party must not condemn him, for he is not responsible for his illness; we must put the blame where it belongs: Bush 43, Bush 41, Reagan, Limbaugh, and the rest of the
usual suspects
enemies of the people! The Party MUST do something to bring these evil ones to justice before any other hard-working people's journalists
figure out the Democrats are bigger a$$hole$ than the Republicans
go mad with rage! As President Obama
keeps saying
says, "This is a catastrophe!"

Red Jim

We have that covered comrade Opiate, they will be brought to trial forthwith:
Quote:
WASHINGTON (AFP) — US President Barack Obama gave a cool welcome Monday to a top US senator's call for a "truth commission" to probe alleged abuses under George W. Bush -- but did not rule out possible prosecutions for wrongdoing.
Obama said at the first press conference of his young presidency that he had not seen the proposal from Democratic Senator Pat Leahy and would have a look at it -- "but my general orientation is to say let's get it right moving forward."
But "my view is also that nobody is above the law. And if there are clear instances of wrongdoing, that people should be prosecuted just like any ordinary citizen," said the president.

snip

"Rather than vengeance, we need a fair-minded pursuit of what actually happened. Sometimes the best way to move forward is getting to the truth, finding out what happened, so we can make sure it does not happen again," said Leahy.
The Vermont senator, who unveiled the proposal in a speech at Georgetown University, said he wanted to chart a middle way between those who want to prosecute Bush-era figures and those who want to wipe the slate clean.

snip

"One path to that goal would be a reconciliation process and truth commission. We could develop and authorize a person or group of people universally recognized as fair minded, and without axes to grind," said the senator.
"People would be invited to come forward and share their knowledge and experiences, not for purposes of constructing criminal indictments, but to assemble the facts," said Leahy, a frequent Bush critic.

Once they step into the trap we have set, we will begin the show trials and summery executions. Bushitler and his cronies will not survive long after the trials begin. Just how far down the food chain we will have to go has yet to be determined but the Party has ACORN collecting voter rolls. I have confidence that anyone who voted for the kurropt kapitalist Bushitler regime not once but twice can be prosecuted for war crimes. The scope of these trials will of course keep the sheeple occupied while we carry out our agenda.
BARRACK OBAMA!
Sorry, I forgot to salute.