jackalopelipsky

PETA Seizes RINO herd forced to live in captivity
In a breathless PETA press release, PETA reports success in seizing a herd of privately owned RINOs.
This RINO languishes in dirt in need of grassroots green!
Quote:
"These RINOs were found in a devastating state, near starvation, at the private zoo owned and operated by RNC®, a privately owned ranch for RINOs."
PETA confirms that the RINOs seized were found suffering from malnourishment, due to the RINO Ranch's Mitchmanagement of the RINO Ranch's vast grassroots. Improper grassroot protection combined with contribution overgrazing practices, created this tragedy requiring PETA to act.
There was not a bit of grassroot green to be found within the borderwalled confines of the RINO Ranch. The sounds of the wailing RINO's as they are loaded and shipped for further processing is something that really doesn't stick with PETA agents very long, but wails, and even some goring by other RINOs, did occur.
breathless quote:
Quote:
"It had reached the point there was virtually no grassroots green to be seen any where. These RINOs had long ago licked clean their personal golden trough. Over the course of recent months, a future of increasing lack of the expected grassroots green in their personal trough within The RINO Ranch and the texts asking grassroots to pay them to do their job, sent alerts to PETA agents of their desperate situation. When PETA first capture images of this herd of privately owned RINOs, stomping, and shaking, their RINOs way down, into the neglected grassroots. It's a good thing PETA took action when it did."
assertive breathless quote:
Quote:
"Besides these RINOs were not going to escape this crime against The GREEN's NEW DEAL!

Just because they were privately owned doesn't give a herd of RINOs protection from raping the MotherLand through negligence of the very grass roots sustaining the whole balance of power! This can not go unaddressed! These privately owned RINOs DESERVE to be seized and forced into the ethical treat-fooling hands of PETA."

PETA is now in process to remove these RINOs to an undisclosed, as yet determined, secure storage area for future processing.

Genosse Dummkopf

Yes, likewise horned Komrade Jacko!
And: Our Nurembergian comrade Dürer Albrecht
documented it
, too:

Genosse Dummkopf

jackalopelipsky
... PETA is now in process to remove these RINOs to an undisclosed, as yet determined, secure storage area ...
Like, ah... Kabul?

Panem Et Circenses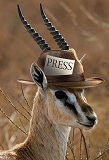 Genosse Dummkopf
Like, ah... Kabul?
We can only hope.

jackalopelipsky

Mullah Abdul Ghani Baradar has plans to ride these starving RINOs like amusement park carrousel horses, and then torch their idols tomorrow.