Adnan Hajj

Ivan Betinov

I think I speak for all here when I denounce these pirates and their filthy capitalist demands. Now, if they were to hijack this ship with the intent of providing these weapons to the freedom fighters who desperately need them to fend off the ravening hordes of Western imperialists, Zionists and other regressive hoodlums like Alaskans, I could understand their cause. But simply demanding money? Unforgivable.


Chairman M. S. Punchenko

Alaskans terrify me, Comrades. I heard they get the news media up there. I know! I know! I didn't believe it at first either but I swear to Obama they get the news up there!

Alaska must. be. STOPPED! Send in Katie Couric.


Comrade_Tovarich

Comrades,

Are we not hastily overlooking the fact that our Somali brothers have liberated products from exploited Ukrainian or Russian masses, who were liberated but became deranged through AmeriKKKan intrigues and allowed themselves to slip back into the Dark Ages?

Really, who are the pirates? The Somalis or those who slavedrove others to bulid the ships and the goods they contain?

I predict that our Somali brothers will, with a few more ships' worth of goods, spontaneously unite into a secular progressive state that will rapidly evolve from Islamic tribalism to glorious secular Communism. Through their extended relations in refugee camps throughout East Africa, Colorado, and Minnesota, they will pull in Barack Obama's half-brother who will be reunited in a glorious manner with the One (thus making the One-Two), thereby bringing to AmeriKKKan shores that which we have been unable to provide for ourselves: the Real Deal.


Red Bubba

Baffling. As I sit here at the cello pin coaster factory, subsidized by the big bailout bill, I wonder why anyone would exert themselves for money. Why doesn't the UN just raise Somalia's minimum wage until the pirates surrender?


Ted State
/off
We are the UNITED STATES OF AMERICA for God's sake. We have our ships over there. Put that ship on the bottom of the ocean where it belongs before any of those weapons get on land and kill more of our troops. Have we lost all of our nerve? WE ARE AT WAR. Time to start fighting it.

Maybe the pirates need a bailout.......then they will like us.


Red Bubba

/off
Personally, I would like very much to see the Navy SEALS go aboard and, in their own special way, persuade the pirates to depart.


Ted State
Red Bubba
/off
Personally, I would like very much to see the Navy SEALS go aboard and, in their own special way, persuade the pirates to depart.
But would that be a unilateral action? I don't think the world would love us then. Maybe we should have the UN vote on it.
The Navy Seals would have this thing solved in about 10 Minutes but sadly, I think we have lost all of our guts as a country to use them. I weep for the future.

Sir Red Star(The Naughty)

What is this? These are suppose to be freedom fighters. The UN should Immediately start having long winded meetings. And suck lots of money out of the United States.


Father Prog Theocritus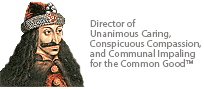 Ted State, not all unilateral actions are bad. Surrender, done unilaterally, can be a good action. Ask the French. They've gotten to the top of the league by dropping rifles.

Brain in a Jar, this may seem like capitalism to you but rest assured that it is not. It is arming freedom fighters, for as Reuters says, someone's terrorist is another person's freedom fighter.

So these people were not pirates, They were liberators if capital.

I have it on good authority that some of the weapons liberated were actually en route to Meow, who has branched out from appliance love to arms love. Meow always did like a good bang.


Branish
These unfortunate, disenfranchised pirates are in it for the money? I never would have known! Does this mean that the pirates in Blackbeard's era were in it for the money too? I always thought they raided Spanish galleons laden with gold and treasure just because they were bored! WOW, the NYT teaches us something new every day!


Red Square

I wrote this draft (NPR-style reporting) a few days ago but never had time to finish. If anyone wants to add anything to it or rework it into a complete piece, go crazy. Maybe we'll put it together somehow and post in the Truth section.

==================================

Somali Pirates Support Obama, Criticize GOP Disastrous Policies

MOGADISHU, Somalia - Pirates holding a Ukrainian ship laden with tanks and weapons claimed Tuesday they rejected the angry and hyper-partisan statements released by the McCain campaign against Barack Obama, adding that this is exactly why people of the world are disgusted with Washington and, as a result, turn to piracy and hold commercial ships for ransom.

"We don't think that the bailout of Wall Street necessarily helps people in our area," said a Somali pirate spokesperson with regards to the recent housing crisis and near market collapse on Wall Street. "We support the Obama plan for America and the world, which will signify a change in how the authorities treat us and give us hope to receive more and better ransom for our important work here in the international waters."

The Obama campaign is witnessing an unprecedented surge of support and excitement from Somali pirates, as well as other pirate communities, and this support will be critical to Barack Obama's success in November.

But the general mood on the pirate ship was far from festive, as everyone seemed to be worried by the deteriorating image of the US in the world, caused by the eight years of irresponsible international and domestic policies of the Bush administration, which led to the removal of Taliban from power, the breakup of al-Qaeda, and a change of power in their native Somalia from the popular radical Islamic rule to a weak, bickering democratic government.