Ivan the Stakhanovets

It's good for the NBA, why not the election cycle?
Comrades, the future is here, let us embrace our millennial snowflakes, and lead them wherever we want them to be in eight seconds or less!
Now that it is proven that the millennial attention span is less than that of a goldfish, we need only tell them that it's election time again, dust off another Bernie clone without an email problem, and off we go to the elections!
Envision what this means! Educational institutions can issue diplomas in a week, putting workers in the fields or back in their mother's basements where they belong, drawing benefits they haven't earned.
We could reenact the Draft, and build a new legion of John Kerry style warriors in a month!
With such glorious news this day, tractor barn #2 will be serving free....serving....aaah.....What? Ummm, oh well, back to work...

Red Square


Captain Craptek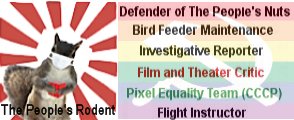 Ivan the Stakhanovets
Goldfish_Attention_Span.jpg


Comrade Ivan the
S
whatever,
Please shorten