Marshal Pupovich

Comrades! Today is the day we must stop to give honor to those progressives, moonbats, fellow travelers, toofers, HBO HO's, Code Pink, Cindy Shehans of the world, and lest we forget, the correct thinkers on the front lines in the Congress, have done, giving their all to fight the good fight against Bush, the neocons, the VRWC, global warming deniers,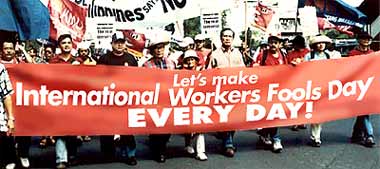 I found an absolutely inspiring speech on this important day that should be a classic along to compete with those touted by our blood and war loving conservatives.
Being Patriotic on Memorial Day Requires More Than a Flag
As many Americans are taking time off this extended weekend, there will be plenty of flag waving, patriotic speeches, a few parades, and veterans reminiscing. It's good to be able to take time off--not every American is lucky enough to hit the beach, fire up the barbie, do whatever leisure activity he likes, or just relax. In this wealthy country, there are millions of children going to bed hungry, a catastrophe like 911 occurs every two months--people dying because they cannot afford health care. Our government is taking away civil rights, increasingly invades our privacy, and is tipping the socio-economic scale to the already most affluent & powerful class.
....If, as they argue, America's bleeding in Iraq today is necessary, are they ready to go there and fight? Maybe they can send their children to Iraq or Afghanistan. Should their fat corporations (many of which are making huge profits because of the war) contribute to the war expenses by donating 10% of their profits? [that's a good Christian tithing!] How about that they relocate their "headquarters" from off-shore to the U.S. so they can pay their fair share of taxes like the rest of us? How about if they drive a little less and a more fuel-efficient vehicle?
....It's not very patriotic to ask only the poor and the disadvantaged, even non-citizens, to fight on behalf of America. It's not patriotic that, through the war, there is a transfer of wealth from the public coffers to private fat corporations, some of which have a fax machine in the ..Bahamas as their headquarters! It's not patriotic not to question the rulers about their decisions. We should call a liar when we see one. It's one thing for our leaders to make a grave mistake, or even believe a lie if they're stupid & gullible, but when they deliberately try to deceive the public, then this is a treasonous crime, because the consequences of such deception are so adverse to the whole nation--except, of course, to the entrenched elites.
We here at the Cube salute you comrades! To you who have suspended bourgeoisie notions of logic and fair minded evaluation of the facts, have turned their backs on quaint notions of modesty, who have given up their jobs so they could attend rally after rally, who have had to pay for sunscreen oil to cover their boobs and body paint for a message out of their own pockets, may the shout of your protest, the smell of your Patchouli, the pounding of your sandals reverberate though out the land as you speak Peace to Power!

Commissar M

Looking at that last photo made me sad that I was unable to attend today's rally. Fortunately, my work far from home will not be in vain as representatives of our Glorious People's Messiah™ (PBUH) have expressed an interest in keeping the internment camp reeducation facility opened under new management.

I hope all at The Cube have had a glorious Progressive Memorial Day and that all loyal Party members will receive double vodka rations this evening.


Marshal Pupovich

Alas, you need an avitar subsidy so that your presence at future parades can be recorded. We know you were there in spirit comrade. I was actually hesitant to post his however, since generally memorial celebrations generally invoke images of graves etc, and there are precious few of those of our protressives that we can display as they tend to prefer being done en masse, with no markings. That is why I pointed out the other ways they have gave of themselves in this great endeavor,


Mikhail T. Kalashnikov

Very nice, Commissar. I do wonder, however, if perhaps this "Liberal Citizen" may need a visit from the
TEC
, if you know what I mean.

Premier Betty

If by TEC, you mean
TEC-9
, then yes.

Marshal Pupovich

Comrades! Don't let your hearts be troubled by Obama not appearing at the main parade! No, he was speaking to the Memorial Day living and necro voters as well!
OBAMA: On this Memorial Day, as our nation honors its unbroken line of fallenheroes -- and I see many of them in...in the audience here today -- oursense of patriotism is particularly strong.

Superkommissar Maksim

Commissar Pupovich
OBAMA: On this Memorial Day, as our nation honors its unbroken line of fallenheroes -- and I see many of them in...in the audience here today -- oursense of patriotism is particularly strong.
Obama might get a second John Edwards endorsement. The psychic John Edwards of Crossing Over fame.

Marshal Pupovich

Obama, just continuing an old democrat tradition when it comes to getting out the vote.


Commissar M

Quote:
OBAMA: On this Memorial Day, as our nation honors its unbroken line of fallen heroes -- and I see many of them in...in the audience here today -- our sense of patriotism is particularly strong.
[off karacter]
What struck me about this quote when I first heard it was not only the "I see dead people" implication but how utterly vapid it was, even by Obama standards. I swear, it sounds like something an 8th grader would say while giving a class presentation. Who the hell is the feckless numbskull that writes this drivel for him? Come to think of, while none of the candidates are especially inspiring speakers, Obama's pseudo-dynamic delivery makes the meaningless crap he mouths sound even more empty.
I'm convinced that Obama's handlers studied Reagan and came away erroneously convinced that the way to win a presidential election was to have a good speaker deliver simplistic, meaningless platitudes in a positive manner. I can't think of a single, solid issue that I've heard him speak passionately about, not one clear vision or goal has been expressed that I am aware of. Am I just missing something? I've heard other people spell their vision of Obama's vision for America but I've heard nothing substantial from the man himself. It's like being asked to vote for blank movie screen so that everybody can project their own version of a movie called "The President" on it.

Marshal Pupovich

Yet the hick President Bush has had a line of rather good speeches IMHO. Better writers I suppose? Just awoke to yet another hate speech from Obama's church. That church needs it's tax exempt status removed. In all my years attending church, I have never once heard a sermon along the lines you hear there. The closest I have ever heard related to politics were those associated to abortion, and not once have they endorsed a candidate, and in fact, rarely even mentioned a candidate.