Dr. Nyet

Comrades,

I had thought to propose a wonderful service for both The Party and The Masses.


However, it occurs to me that if we charge money for it, there exists the possibility that we would profit from it.

Is this wrong? On the one hand, we know the rents of the oppressor are wrong. But The Party is the ultimate manifestation of the essential will of The Masses, so by definition it cannot be oppressive.

Because capitalism is a decadent philosophy, the means to destroy capitalism can always be found within the tools it creates. Therefore, using a web based party portal as a gateway to permanent revolution seems to me to be worth trying. After all - look how well The People's Cube has done in advancing serious Progressive Thought. After only a few short years of existence, we will soon have a Fellow Traveler entering the seat of power in America.

As a web portal to the next stage of The Revolution, I propose a service called GoToMyReEducation.com . A Comrade was good enough to provide a propaganda cube to help introduce the service:



I know with their busy lives, filled with hard work and drudgery on account of the devastated Bushitler Economy, many of the petite bourgeois, wage slaves, and neo-kulaks do not have the time to report to the centers, and afford themselves of the restorative re-educational opportunities there.

But now there is GoToMyReEducation.com. What better way for The People to get a taste of the transformational powers of intensive electro-shock therapy than via the internet from the comforts of your own home?


The site could contain "features" that will flag the most dangerous counterrevolutionaries for immediate collection and processing. It should also encourage the users to inform on their family and neighbors. One method of encouragement could be an appeal to their revolutionary fervor. Another means could be threatening that the users themselves will be suspect unless they inform on others.

The People in America have shown they are open and receptive to the philosophy of redistribution. If we can help some of them find the true path, while redistributing some of their regressive accumulation of capital to The Party at the same time; how can this not be a good thing?

You know My Comrades as always I rely on your good judgment for council in these matters. As much as I tend to prefer the old ways, I think virtual re-education camps may be an idea whose time has come.






Grigori E.R.

hmmmm....I know a banker with a server farm in Romania.
Not to worry about right or wrong. Lets make some money!

Opiate of the People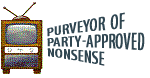 And, if we add a camera, we can turn the common PC into a telescreen! Orwell's dream finally realized... Now, every home's personal computer can become aspy observer for the state to make sure each family unit remains on the path of party orthodoxy and is free of the sickness of thoughtcrime! Upon any infraction, the PC will command the infractor to stick his or her tongue into the nearest AC outlet, thus providing negative reinforcement. Wow! We can turn every McMansion into a prison with very little capital outlay (which is good, 'cause there ain't much capital left to lay out.) What a country!


Cradle to Grave Marxist

Why make it a Dot Com? And charge money??
Should be a Dot Gov. And TAKE their money.
Comrade "Pul"
Tiglath-Pileser III
UrbanThug
Over 2753
Years of
Organizing Communities
Needing Bailout


Grigori E.R.

Tiglath-Pileser
Why make it a Dot Com? And charge money??

Should be a Dot Gov. And TAKE their money.




Comrade "Pul"
Tiglath-Pileser III

UrbanThug


Over 2753 Years of Organizing Communities Needing Bailout

Yes! I like your thinking Comrade. We can register as .gov, .com, .net, .org = "Spreading the wealth" ( to us ).