Karl Marx Treatment Center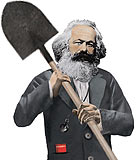 ________________________________________________________________________
Duckspeak
Duckspeak is a Newspeak term meaning literally to quack like a duck or to speak without thinking. Duckspeak can be either good or "ungood" (bad), depending on who is speaking, and whether what they are saying is in following with the ideals of Big Brother. To speak rubbish and lies may be ungood, but to speak rubbish and lies for the good of "The Party" may be good. In the appendix to 1984, Orwell explains:
" Ultimately it was hoped to make articulate speech issue from the larynx without involving the higher brain centres at all. This aim was frankly admitted in the Newspeak word duckspeak […]. Like various words in the B vocabulary, duckspeak was ambivalent in meaning. Provided that the opinions which were quacked out were orthodox ones, it implied nothing but praise, and when the Times referred to one of the orators of the Party as a doubleplusgood duckspeaker it was paying a warm and valued compliment. " ~ Orwell
Last edited by
Comrade Otis
on 5/28/2011, 4:46 pm, edited 2 times in total.
REASON: Quack, quack. Quack, quack, quack. Quack.

Nikolai Dogoda


Leninka

I think Doctor Quack prefers his Juice Kabobed, fire roasted, and crispy.