Genosse Dummkopf

.
Note. This is a transmission from the Ash Heap of History. It's in the very nature of such transmissions that they happen to be temporally challenged.
AHOH Timestamp : End April 2016. (AHOH : Ash Heap of History)

(of course, subtly alluding to iconic American Gothic by Grant Wood.)
~
End April,
Herr Hop
, eh, Mr. Obama corkscrews in Air Force One into London to make Himself available to photogs, give Himself a (pre-written by 10 Downing Street) speech to Citizens Of The World (urging them to not brexit) and Himself eat royally in Windsor Castle (meal to be prepared by a Queen).
To let the Castle shine in a New Light,
Herr Hop
, eh, Mr. Obama, commanding His staff, designed His special costume, shown above with Himself inside.
Now, the Bourgeois - expressing themselves via antiquated Aristocracy - tried to somehow hamper the Progress, freshly flown in :
(
source
)
No objects are
hurled
here on the lawn
- sardonically added the Queen, and her lesser half, Prince Philip, Duke of Edinburgh, didn't disagree.
The London U. S. Embassy counteracted the thinly veiled bourgeois effrontery by immediately installing a display of Him at a central spot, right in the entrance area :
His Excellency himself introduced the gathered plebs with a gulp of sumptin' vegan from a pesticide-free bottle, The One towering over the chintzy clad crowd :
and two antiquated Presidents were given the honor of pointing to Him - The One :
Additionally, in a subtle bout of revenge, Mr. Obama switched to modern post-Y2K Amerikkkan garb yet complete with a loupe, which He then used each time when looking towards the Queen :
When appropriate, and also when not, Mr. Obama addressed the Queen as "Your Magnifycence", ironically stressing "Magnify", while showing-off to photogs on their knees. Here He applied His usual menu (hand-winks, V-displays, you name it), all the time with His trademark grin on His face :
But finally the icy demeanor was warmed and melted away when He and His Lady performed a flawless Argentino :
EU ? Brexit ? He came, He saw, He went.
_____
(and an Old-Continent-wide ufffff... was heard)

TheFineReport.com

Obama: the real legacy

Captain Craptek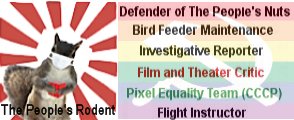 TheFineReport.com
Obama: the real legacy