Captain Craptek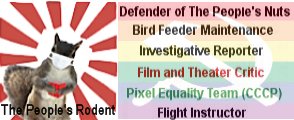 Comrades! Once again it is time to circle the wagons and defend one of our own. Congressman Hank Johnson (D-GA) is under attack by adversaries of Dear Leader's noble goal of a fair and equal future for all humanity.
Leading the Tea Party's outrageous assault is the fiendish Marilyn Assenheim writing for the equally fiendish and diabolical Internet rag
Political Outcast
. In her latest diatribe, Ms. Assenheim levels a withering volley of racist slurs and not-so-subtle mentally handicapped innuendo against our steadfast Comrade, Rep. Johnson.
Her first mindless broadside accuses the representative of stupidity during a 2010 budget debate when he inadvertently stated that the island of Guam, do to its small size, would tip over and sink if the population grew much larger. Why doesn't Ms. Assenheim include ALL the facts in her malicious scribbling; i.e., everyone in the chamber, including the representative, knew full well that he mis-spoke and meant that the island "might" overturn. But no. That wouldn't advance her Right Wing agenda.
Next, as though one bombastic tirade didn't satisfy her need to thoroughly and utterly destroy the credibility of Comrade Johnson, Ms. Assenheim immediately launched into second round.
He was, in short, discussing a bill to continue the federal government's sales from the National Helium Reserve. You read that correctly — helium. In an America currently besieged on all sides, the Honorable Hank Johnson addressed Congress by stating: "Imagine, Mr. Speaker, a world without balloons." A world without balloons?
It is a well known and uncontested fact that Mr. Johnson was merely
"standing up for some of the most important victims of congressional gridlock: children's birthday parties and comedians trying to make their voices high-pitched."
Helium, in addition to being a vital part of our national defense, is under assault for draining the Federal Budget through massive subsidies provided to big helium in exchange for Republican votes.
The time for partisan bickering has passed comrades. We must now go on the offensive. The necessity of ending the sequester and restoring our budget to its natural and full operational proportions is palpable. Join with Comrade Representative Johnson and demand that The Tea Party re-inflate the budget and release helium from bondage!

Shovel 4 U
Just when we were told the depth of KKKonservative depravity couldn't go any lower. This happens. Is their a law against tipping islands?
NO
- and why? Rethugs don't care about minorities who ride colored balloons having equal access to island landing strips. They would rather you die - quickly!
This is RACISM - straight up!

Anyer Marx

With our Flight Demonstration Squadrons grounded due to the Evil RethugliKKKan Sequester™ we will NEED balloons as a replacement.

Komrade Katz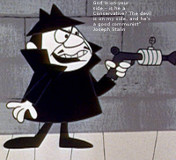 As usual, the right wingers want to destroy a program that is for the Children. Thankfully, the esteemed congressperson is standing up for birthday parties, which are early training in wealth redistribution.


R.O.C.K. in the USSA