Pamalinsky



Theme for an imaginary western. Timely and sweet.

I remember listening to your voice as the lead singer for CREAM. You were awesome and, well, operatic! You guys blew me away with your adventurism and "pull-out-the-stops-writing (Yeah, I knew you all were drugged out of your minds)

I really love Jack Bruce, such a wonderful singer. Really. Almost operatic, but very sincere. I love him and his alliance with Eric Clapton, Ginger Baker, et. al.

Comrades, do yourself a favor and listen to what I have posted.

Next up: Politician. Dig it!




Captain Craptek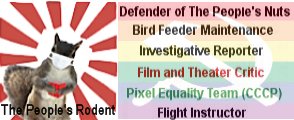 Ah,...the good old days...




Krasnodar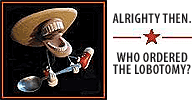 Comradesess P :Have these

"Cream"

persons been approved by the

People's Ministry of Culture ?




Well ?

Pamalinsky

Ya got me there, Kras. However, I think there is an issue with raw milk, not cream. So, we're safe! I think.

Jack Bruce was a badass, as are Ginger and Eric. Love this band. The meaning of the lyrics is, to me, sometimes a bit obtuse but, who cares? I like to think of them as "impressionistic."

If listened to in this way it all makes perfect sense. ; • )


Krasnodar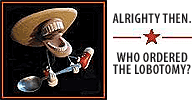 Oh .... I get it ..... like listening to one of Obama's State of the Union speeches !


Ivan the Stakhanovets

<off>

Except that the musical group is timeless, and an O-speech sours as its being delivered...


Pamalinsky

Tovarichi
<off>

Except that the musical group is timeless, and an O-speech sours as its being delivered...
Ding! Ding! Ding! Ding! I think we have a winner!

Pamalinsky

Captain Craptek
Ah,...the good old days...


Yeah, Crap, I listened to this a few more times. I love it. Thanks for posting.
Here are the lyrics:


In the white room with black curtains near the station
Black roof country, no gold pavements, tired starlings
Silver horses ran down moonbeams in your dark eyes
Dawn light smiles on you leaving, my contentment
I'll wait in this place where the sun never shines
Wait in this place where the shadows run from themselves
You said no strings could secure you at the station
Platform ticket, restless diesels, goodbye windows
I walked into such a sad time at the station
As I walked out, felt my own need just beginning
I'll wait in the queue when the trains come back
Lie with you where the shadows run from themselves
At the party she was kindness in the hard crowd
Consolation for the old wound now forgotten
Yellow tigers crouched in jungles in her dark eyes
She's just dressing, goodbye windows, tired starlings
I'll sleep in this place with the lonely crowd
Lie in the dark where the shadows run from themselves


Songwriters


BRUCE, JACK/BROWN, PETE


Published by


Lyrics © Warner/Chappell Music, Inc.

http://www.facebook.com/sharer.php?u=http%3A%2F%2Fwww.metrolyrics.com%2Fwhite-room-lyrics-cream.html&t=MetroLyrics


Read more: Cream - White Room Lyrics | MetroLyrics

Pamalinsky

Just took another listen to Jack Bruce's
Theme for an Imaginary Western.
I realized, at least for me, that this song is a metaphor for what we all may go through in life, as well as an insight into what explorers might have gone through when they went West.
After all, the sun was definitely in their eyes (so compassionately sung by Jack) and they couldn't always see what was in front of them because of that. But they moved forward in spite of everything. The Sun does, indeed, set in the West.
God! I love this country! The Greatest country in the history of man!