Comrade Vlad Linen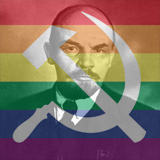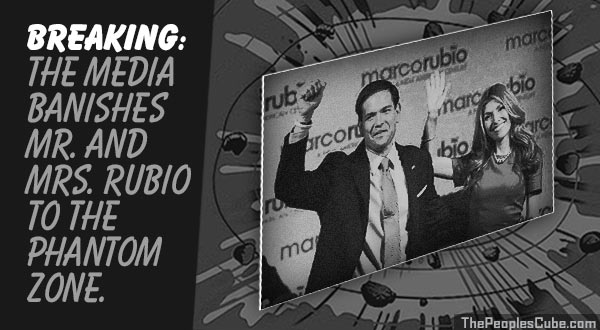 AB (Associated Baloney) -- After a successful conviction and later trial by the People's Media, today the Justice Department announced its sentence: permanent banishment of Mr. and Mrs. Rubio to the Phantom Zone.
"We need to send a message to the people that horrific behaviors like that of the Rubio couple will not be tolerated in a free society," said a Justice Department spokesperson.
Heinous crimes by the Rubios that relate to this decision include:
owning a boat while the poor don't also get to own boats
double parking
occasional failure to come to a complete and absolute stop at a stop sign
accumulating traffic tickets which caused whole forests to be destroyed for the paper, increasing global warming
being younger than Hillary Clinton
being Hispanic and a Republican
running for an office that belongs to Hillary Clinton
being against gay marriage
belonging to the Republican Party in general
messing up the carefully crafted narrative that only racist old white men are Republican
being successfully elected to one or more offices despite being a Republican
being a Republican and helping to provide a number so Republicans could take over the US Senate
his family didn't just stay in the People's Paradise of Cuba (guilt by association for both of them)
being a womyn and still being married to a politician whose party engages in the daily War on Womyn™ (Mrs. Rubio, guilt by association for Mr. Rubio)
spewing carbon into the environment while driving their vehicles and using their boat
being a politician and NOT being driven by a chauffeur and followed by a motorcade, which would have absolved any guilt over causing global warming
being a politician and not having a minimum of one sex scandal
failure to own a multi-million dollar mansion in Chappaqua
miscellaneous thought crimes committed in the past or future
In terms of the charge of not having at least one sex scandal, the People's Media has considered trying to help out Mr. Rubio by manufacturing one for him. But after examining the list of all his other heinous crimes, an anonymous source said the feeling was basically "What difference at this point does it make?"
The Phantom Zone is a parallel dimension where prisoners are free to observe what goes on in this world but have no ability to participate. It is similar to watching reality television or the soap opera known as politics except that in the Phantom Zone, prisoners do not age, do not eat, do not gain weight, and are basically ghostly figures. They can talk, but in some representations their voices sound metallic.
The Phantom Zone currently has prisoners from planet Krypton sent there before the people of that planet spewed enough carbon into the atmosphere to make the planet explode, ignoring the warnings of their diverse and glorious first black planetary emperor. Krypton's
first black emperor survived the planetary apocalypse by escaping in a pod headed for Earth.
The Rubios will be the first Earthlings permanently banished to the Phantom Zone. Sometimes, a hole opens up which allows prisoners from Krypton to escape and wreak havoc on earth while members of the Justice League of America temporarily get sent to the Phantom Zone. In such cases, JLA members get the annoying metallic voices until they are released and the Kryptonian prisoners are put back in the Phantom Zone.
Citizens are hereby advised that Warner Brothers is making new Superman films and this could open up a hole in the Phantom Zone allowing the Rubios to escape. Unlike Kryptonians, the Rubios will not have super strength or be able to fly on their own. They also don't have heat vision.
However, experts warn that if the Rubios get their vehicles, they will be a menace to society by driving a few miles over the speed limit, double parking, failing to fully stop, and forcing traffic to move to the left (even though these are right-wingers), or slow down as the cops inevitably give them tickets.
If they are out long enough, Mr. Rubio might even continue with his presidential campaign that distracts from Mrs. Clinton's valiant efforts to change religious views. Eventually the law will catch up with them and send them back to the Phantom Zone where they belong.

John Frum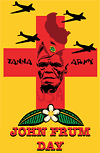 Armenian Radio.

.....No show trial.....?


Ivan the Stakhanovets

I thought he was a "white-hispanic" which supercedes a show trial and goes straight to the guilty verdict.

Furthermore, what's a guy of Cuban descent going to do with a boat? LEAVE! What's the issue here?


John Lenin
I heard his children were born naked, too.

Kelly Ivanovna/келя ивановна
John Lenin
Cube.PNGI heard his children were born naked, too.
TMI, Mr. Lenin, TMI!!!

Konservative_Punk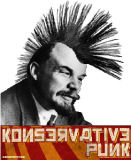 Ivan the Stakhanovets
I thought he was a "white-hispanic" which supercedes a show trial and goes straight to the guilty verdict.

Furthermore, what's a guy of Cuban descent going to do with a boat? LEAVE! What's the issue here?
He just may use his luxury speed boat to import dissident family members left behind in the communist paradise that lies a mere 90 miles to our south. He may infect them with ideas of capitalism and foment a counter-revolutionary uprising. The future of communism is at stake for the people's republic of Cuba. Why else would he need such a fast boat with two outboard motors? He is demonstrating capitalist greed in the extreme and must be brought to heel for lording it over his noble countrymen.Had this occurred prior to the passage of O'care, one might have assumed he would use his boat as an ambulance for his family to take advantage of the world's finest healthcare system, which as everyone knows because of the People's Filmmaker Michael Moore, is in Rubio's motherland.