Gulag Guyinski
often I visit pravda,
http://english.pravda.ru/allnews_en.html
, and they criticize our glorious statist progressiveness in Amerika as if capitalism was something they value. Of course I see it just as uber clever reverse psychology so all in well in my unblemished mind. This web site dedicated to the perfection of progressive progress also has a Russian.
Oleg Volk is founder of thehighroad.us which he states
Welcome to The High Road™ When I started this forum in 2002, my vision was to create a place where people from around the world could engage in cordial discussion of RKBA related matters. Since then, you have helped make The High Road™ one of the best places on the web for learning about firearms, for educating new shooters and for supporting effective advocacy of the Right to Keep and Bear Arms.
saiga-12.com is also run by a Russian. I forget his name.
What other Russians in this decadent country dare to diss the democratic socialist revolution?

Fraulein Frankenfeinstein

Would that be comrade Barack Osama bin Ladenski?

Fraulein Frankenfeinstein

Sorry dear comrades. I didn't realize Barack Osama bin laden pic was sooo BIG.


Comrade Whoopie

Too much is never enough Fraulein. I look forward to seeing Osama well hung.

Fraulein Frankenfeinstein

Comrade Whoopie, I hate to disagree, but I can't picture our glorious leader Obamski, as "well hung". I'm have a dire feeling that Mo has all of those family jewels locked in her Gouche handbag.

oh dear, did I say that outloud??


Comrade Whoopie

Oh, I was speaking of the other muslim enemy of America, Bin Laden. We mustn't make any subliminal death threat against Dear Leader or the Secret Service would get upset.

As for Barack's endowment, I guess that's Michelle's cross to bear. Remember he's only a Halfrican. Which reminds me of an ancient Roman joke: A new recruit to the Legion unaccustomed to sword fighting asks his Centurian how deep you have to stab a person to kill them. The Centurian says 2 inches is enough... if you stick it in the right place.


Father Prog Theocritus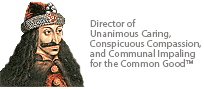 Perhaps we could find out about Obowma's credentials. I'm told that the phrase "well hung" comes from the Catholic church. It may be apocryphal, but supposedly there was Pope Joan, a woman who went horseback riding and delivered a child.

To avoid this, there is supposedly a chair in the Vatican, with a hole in the bottom. The upcoming pop sits in the chair, with his junk in the hole. A priest, in another room, through a hole in the wall, reaches up and feels. If he feels something he said, "Habet duos, et pendentes bene", which is Latin for, "He has two and hanging well."


Leninka

We can always DENOUNCE AYN RAND. Of course, she's been dead for years, but still, she is a Russian we can all agree upon as a good one to denounce.