Hammer and Loupe

New York, NY- After
an exclusive interview with Ms. Piggy
, Kermit the Frog became furious that his skin boiled. He wanted to respond to Miss Piggy interview, with his own exclusive interview. He was eager to speak about the truth of Ms. Piggy, and absolved himself of Capitalist title. It was nice to see another point of view, was it not? In his interview, he addressed some secrets about Ms. Piggy.
"As all capitalists are, she is by definition a capitalist. Ms. Piggy stashes snacks around the apartment we live in," he croaked, "She has foreign investments in France, Germany, Switzerland, and the Caribbean Isles. She lied about me being a capitalist to hide her way of lavish life. She is not willing to share some of the wealth and askes more from me even in the divorce. She had many affairs with strangers just to excite her marriage, at least that is what Uncle Deadly said. The honeymoon was the first indication of her capitalist ways. What some called a hoarder, I call a scrooge as Miss Piggy drank all of the mead, ate most of the dinner, and asked me to give her all the attention. Once during our marriage, I asked to her, "What can we do to help the children of the world?" She replied, "Why should you pay attention to them and less of me?" She…. She….. She is a hog! A pig I tell you. I could not handle enough of her boar and she does not think much of me. I guess the divorce may well as be a miracle. I also think the marriage was forced upon us. I thought it was love at first since Miss. Piggy never wanted to leave me alone with others, but maybe she is so into herself that she thinks my fame will wash upon her. That narcissist should go back to her old ways before she even met with me."
How can she be a capitalist if she is a feminist?
"She can be both. It is called capitalizing on her sex. She does not think men should even have an equal chance like women. I played the feminist game and even I get all green about it. It just makes me sick that all feminists act like they are the damsel in distress and downplay events when the men are the ones in distress."
Do you have anyone to love after Miss Piggy?
"It was a long marriage, and I lost the kind of connection to what is love. I thought of it as an affection, but I guess I did not share the same as Miss Piggy. Forty years is like a prison sentence. I rather not have another forty with someone else. I might as well go back to my old swamp."
Do you know your old swamp does not exist anymore?
"No… What ever happened to it?"
Miss Piggy bought the swamp and placed a building on it to house her "Fashion for Feminist" department.
"Terrible! I feel bad my swamp friends were moved out because of her. Since that happen, I will just go find the rainbow connection again. I might find something better there."
What about the children who depend on you?
"I need rest from the spotlight. This divorce is getting hard to go through. Maybe in the future where I am better and not depressed. The children can wait for me."

Infidel Castrate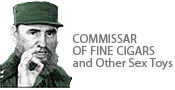 Oh the thought of Miss Piggy just drives Kermit crazy ...

Captain Craptek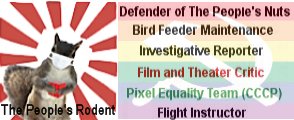 Dear Kermit,
From one animal to another -