Czar Czar



WHERE were the Black Pampers last Tuesday?
WHERE were the Obama Youth™?
WHERE was Comprehensive Immigration Reform/Mint-a-Prog program?
WHERE was the Stimulus Walking Around Money for the proletarian voters?
WHERE the hell was Soros hiding for that matter?
WHERE were the SEIU kneecappers?
WHERE were the pre-stuffed ballot boxes? Surely Reid didn't use them all!
WHERE THE HELL WERE THE CLINTONS?!?!?!?!?!?!
Komrades, it seems there is a surplus of Shovel-Whacking to be done. Dosen't the Cube have a czar or somebody (or an app) for that?

Groucho Marxist

There will be a few bodies as yet to bury as well. Keep the shovels ready.


Krasnodar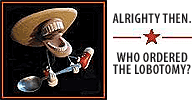 Czar Czar:
About shovel whacking....you really need to talk to
Commisarka Pinkie.
And while I'm here, may I interest you in the latest example of shovel technology?

Father Prog Theocritus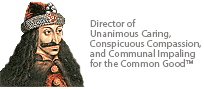 Oh, come on Comrades. You know that Lord Barry Dear O'Leader had a headache and therefore the emanations from his glorious head just weren't up to hypnotizing the Sheeple into voting for the Progressives. Had he been at the top of his form, the election would have turned out the opposite, and I'd have lost #30 more.

This is of course the fault of George W. Bush. Never forget that.

But the real reason? Michelle, Miss Resentment, found a muy guapo man in Spain, and since Barry is the most whipped man in America, it lost the election for him.


Obamugabe
Commissar Theocritus
Barry is the most whipped man in America, it lost the election for him.

General Confusion

Comrades,

All is not lost, by playing with computationals, we have won the day in the Peoples Republik of Kalifornia


Red Jim

How could we not win all the races when SEIU has the contract to work on electronic voting machines? Who do we send to tune-up talk to the people who we use to tune-up protest capitalist pigs? NOW?


Father Prog Theocritus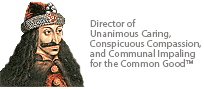 Personally not enough alcohol was used. In 1883 here in Reeves County, Texas, Pecos and Toyah were of about similar size; Toyah was a railroad town in the center of the county. Pecos was, and is, on the river to the east.

On election day people from Pecos took a barrel of green-stick whiskey to the Pecos Valley, which was farmed more then, and lots by coolies from the TP Railroad.

They voted Pecos and by the time that Toyah got there, they'd been voted.

And it serves Toyah right for drying up if it's too stupid to rig the vote counting.

Jeez. Where do I live?