Red Square

A student government leader at the University of Houston has been revealed as a deviationist enemy of the people and a fake minority impersonator who has conspired to infiltrate the progressive student government in order to sabotage its progressive agenda. The female saboteur, Rohini Sethi, has now been suspended for 50 days and ordered to attend a diversity seminar after she criticized the Black Lives Matter movement online.
Shortly after Micah Johnson, this selfless progressive martyr heroically gave away his black life for five racist white lives in Dallas on July 7, thoughtcriminal "Rohini Sethi" went on Facebook and opined "Forget #BlackLivesMatter; more like AllLivesMatter." The statement was later deleted, but only after numerous UH students denounced it as incredibly
offensive or even hateful
.
It was further revealed that, in order to achieve her subversive goals, the criminal in question had darkened her skin in order to fool local Diversity Enforcement, and was also posing under a non-white name, "Rohini Sethi," while her real name is Abigail Whyte, being born of white upper middle class card-carrying Republican parents. What else can she be hiding? Is she even a "female"?
This so-called "non-white woman" must publicly confess to being a deviationist and admit her crimes against the Party and the People. She must then write an open letter of repentance, meticulously enumerating all her criminal activities. Finally, she must expose at least three co-conspirators who may have secretly engaged in such deviationism with her. Only then will she be allowed to continue her education, although she should forget about any career prospects within Party-controlled metropolitan areas. Needless to say, this will remain a permanent stain on her personal record with the State.
This punishment needs to be made exemplary so as to discourage any further attempts of sabotage. As we say in the Motherland, "Beat your own and you shall be feared by others."
See full chronological development of the righteous show trial at
The Cougar
See how the enemy malignes the show trial here:
All Lives Matter' Gets Texas Student Suspended, Sent To Diversity Workshop

Komissar al-Blogunov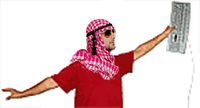 $.$. Halliburton

Let a hundred flowers bloom.

When they show their true colors kill them.


Great Stalin's Ghost

Did somebody say, "show trials?" Pour me a vodka and pass the popcorn, it's about time. We haven't had any worthwhile "People's entertainment" since oil executive kulaks were hauled in front of the Senate (as they should have been) to explain (as if they could) high gasoline prices and their own obscene (as opposed to merely erotic) profits.

Now where did I put my knitting?


Evil Smiley