ThePeoplesComrade

The People want Congress to work together (as long as the people are getting what they want), but we love dearly a pit bull when the other side seems to be gaining ground. That's why we love Comrade Reed. He is a Progressive stalwart from the Stalinist mold. Most Republican senators are simply posers.
Quote:
Senator Lindsey Graham, Republican of South Carolina, said that some of the demands Mr. Cruz made of Mr. Hagel were "out of bounds, quite frankly."
Quote:
Senator John McCain, Republican of Arizona, issued a public rebuke after Mr. Cruz suggested, with no evidence, that Mr. Hagel had accepted honorariums from North Korea.

"All I can say is that the appropriate way to treat Senator Hagel is to be as tough as you want to be, but don't be disrespectful or malign his character," Mr. McCain said in an interview.

Bill G
" but don't be disrespectful or malign his character,"
Correct. It is only acceptable to do these things to Rethuglikans. Since Hagel is up for a position from the Glorious Leader (Propeller Beanies Upon Him) he must be treated with respect.
Saying things like "Someone told me he hasn't paid taxes in ten years" is only to be done to the opposition.


Opiate of the People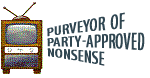 Ah yes, the always magnanimous Commissar Reid...
Quote:
In the summer because of the heat and high humidity, you could literally smell the tourists coming into the Capitol.

R.O.C.K. in the USSA