Ivan the Stakhanovets

http://transition.fcc.gov/Daily_Releases/Daily_Business/2011/db1103/DA-11-1857A2.pdf
Next Wednesday, (somehow prior to Next Tuedsay...) the People's Government will take over all radio and TV broadcasting! Under the cover of a "test of the
Peoples
Emergency Broadcast System" (wink, wink...) the Government will allow Dear Leader (PBUH) to disseminate the TRUTH™ to the People™ nationwide without the annoying disturbance of other programming that listeners can turn to, by taking over all stations on all broadcast media!
The (cough) "test" will only last about 45 seconds (giggle...) and will allow
finks
monitors nationwide to identify which stations are not broadcasting the "emergency" signal, allowing
re-education of program managers
"technical repairs" in the interest of "public safety."
Pay close attention, it will be the most prolific and inspiring speech Dear Leader makes (I will record it to my iPod!), Intelligence collected on the 2% teabagger Rethuglikkans, George Bush, Dick Cheney, Rick Perry and Herman Cain indicates preparation to
jam the signal with tone-generators
. Halliburton too. DO NOT allow such treason! Immediately report such jamming using the established methods.
If you DON'T hear something, say something! LISTEN TO THE SIGNAL of DEAR LEADER! If your neighbor turns off his radio or TV, he must be reported, and he must pay the consequences. Remember, It's not your fault,
you did the right thing
.

ThePeoplesComrade

Our new form of government needs special measures.

Apparatchik Unkulturny

Comrade Tovarichi - Isn't that supposed to be:
Sunshine, Lollipops And Rainbows
Everything that's wonderful is what I feel when we're together!
(Speaking, of course, of the Holy Reverential Unbelievably Stimulating Experience of being In The Presence of Dear Leader (PBUH)! Just recall those dedicated fans devotees voters who FAINTED during Dear Leader's Personal Appearances during the incredibly successful 2008 "Presidential Campaign"!

[And PeoplesComrade - Da, Our Dear Leader's Plan Is undeniably (if you know what's good for you and your family) Working Well, nyet?]


Red Rooster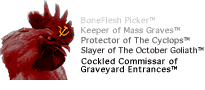 Whew! I'm glad a comrade covered this event, we were hoping worried that the proles weren't paying attention.

This Is Only A Test™.


Ivan the Stakhanovets

This is the day! It will be glorious! Dear Leader (PBUH) will announce over all media simultaneously his plan for solving economic woes worldwide, hunger, healthcare, equality of genders, old people driving in the left lane, gun control, global warming, clubbing of baby seals, vaginal itching, nuclear power generation, and the 32nd flavor at Baskin Robbins. He might address some other minor issues like immigration and education, lite beer, raisins in cinnamon rolls, or steroid use in baseball. All done nationwide, no alternate channels available, just our own current truths! UNLESS--THOSE DAMN TEABAGGERS JAM THE SIGNAL as planned. Have those tinfoil hats at the ready!


Ivan the Stakhanovets

Comrades, we were right. Evil rich Teabaggers Reichwing Rethuglikkans JAMMED Dear Leaders inspiring speechificationing with silences or worse, the wailings of Lady Gaga <spit>. Next time (oh yes, there will be a next time) we will take over cell phones, ipads and capitalist WiFi. You watch.


Sugar Daddy Bear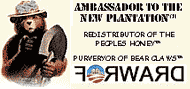 Comrade Peoples,

Wouldn't that be a Kakistocracy? Blame it on Boosh for coming up with the term first.