Raznochinets Pewkov

Comrades,
Greetings and Salutations from the
Raznoehintsi
(see footnote [5]).
Over the past 100 days of the
BEST ADMINISTRATION EVER,
we felt that it would be of benefit to the less "mathematically equal" to have the simple Taxation plan explained.
Baseline Budgeting 101
- Just a quick lesson in how the government creates budgets.
Let's begin by taking a budget of $1000 as the baseline. Now, next year, we'll get an increase of 10%.
However, due to evil Rethuglicans (they don't want our budget increased at all), we only get a 5% increase.
If you can see, we only got a 5% increase instead of 10%, or a 5%
CUT
in our budget.
Baseline Taxation
- Taxation mathematics made easy.
Taking the above example in account, lets go through how 95% of all Americans will get a tax cut.
Let's say my income tax is $1000.
Now during the course of the next year, it has been rumored that taxes will go up by 10%.
Sensing that this will not sit well with the masses, the Merciful One will bestow upon us a tax increase of only 5%.
HOWEVER,
since it WAS going up 10%, but now only going up 5%, we get a
TAX CUT of 5%.
See how easy this is to understand?
Here's the mathematical proof:

Margaret
Brilliant!


Red Rooster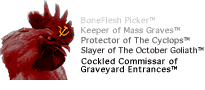 Excellent Comrade! You have taught me so much about math. I failed New Math 101... but now comrade, now I understand that you are far more equal than I in math. Hail The One!


Colonel 7.62

Ahh People's Math(TM). Anything is possible!


Comrade_Tovarich

Comrade,

Education is important but let me confirm one thing: that is my People's Accountant wearing a gravity-defying necktie, not me, no?


Comrade Whoopie

One more point to consider comrades, when you raise taxes, you are making an "investment".

Capitalist swine (not to insult the humble flu virus) would have you believe that you can not spend your way to prosperity. I scoff at that. Anyone with a "rewards program" credit card will tell you that the best way to make money is to spend it. Especially if it's money you don't even have in the first place.

For every dollar spent, you get back 4 cents. By the People's Math, that's a 400% return on your investment...no? 4 is a bigger number than 1, just cancel all the zero's. Everyone knows that zeros mean nothing.


Comrade Joe

Ah, brilliant! Who needs things like logic, facts, and reason when you have Hope and Change?


Leninka

This piece of math is not math! IT IS A WORK OF ART! It even surpasses the finest Cy Twombly.