Ivan Betinov

Once the children discovered that Mr. Dribbles wasn't very funny,
they ignored the clown and went back to their play.

Ivan Betinov

OR...
Hey, C'mon, Kids! I got curly blond leg hairs here!
...Doesn't anybody wanna play with 'em?

Panem Et Circenses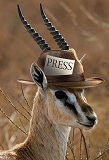 Legos or some dork in a suit who can't even finish a sentence? I know which one I find more interesting...


jackalopelipsky

Look how Biden graciously extends his hand in thanks to the masked agent assigned to maintain Biden's social distance from the little beet sprouts.

<hug>

What a Biden, to do that, instead of retelling his commuter train agent story. Spread the accolades of other agents in contact with Biden in the Joe's repertoire of imaginary campaign stories.

Someday those kindergartners are going to be grateful for the diligence of this masked agent assigned to Biden the day he visited their classroom.


Commissarka Pinkie

The kids are playing Legos, Brandon!


Colonel Obyezyana

How about "Spit of a Clown?"
Single frame from video of Sloppy Joe anointing one of his followers with a jet of saliva during a political rally in Virginia.
Jeez, Joe! Say it but don't spray it!