ThePeoplesComrade

Our natures, humans, is to always want more. We all do. Individual employees all love raises in pay and well they should, nothing wrong with that. But higher pay exposes employees to certain risks. The more you make, the easier you are to replace. You had better be sensational if you are paid sensationally, otherwise someone will come along and do your job equally well or better for less money and you will be standing in the unemployment line.
Unions push wages and benefits higher than any single individual employee could ever achieve. And unions provide some protection against replacement for overpaid workers, all through mob intimidation aka union negotiations. Employers easily replace one under-performing, over-paid worker but replacing the entire staff is difficult. Throw in a little intimidation, a smatter violence and a pinch of "legal" protection, and we have a hamstrung employer.
So when Hershey can finally dump its $30 an hour candy packer for an $8 candy packer, it jumps at the chance (English optional). Is Hershey evil and greedy for doing what any reasonable person would do when hiring the kid next door to mow the lawn? "Johnny, I can't pay you $30 to mow my lawn because Billy will do it for $8, and he promises not to break my windows when I refuse to pay him more." Now Johnny rails that you are running a lawn mowing sweat shop and you say though noogies. You are happy, Billy is ecstatic and the lawn looks great. Congratulation, you are an evil capitalist.
This little sweat shop has worked out well for everyone except Johnny, who is frantically seeking someone to blame because it was certainly not his fault that he lost his job. It was your fault for not wishing to pay his demands and Billy's for working so cheaply. So Johnny seeks to form a Union of Lawn Workers and lobbies Congress to pass fair lawn labor laws. And the New York Times writes another scathing expose on "
Lawn Mowing Sweat Shops in the USA
".
We at ThePeoplesCube are appalled at sweat shop inequity. We would rather not work than earn less than globally equal pay. We vehemently insist that no one else be allowed to work for less either. Show your solidarity with Johnny and quit work now. Let there be Lawn Mowing Justice.

The People's Little Pony

How dare you criticize the glorious New York Times, the greatest source of Truth™ in the world (besides the Cube itself, of course)! Let us not forget that Walter Duranty, the People's Hero™ who valiantly crushed the Ukrainians' lies about the great Stalin and the alleged "artificial famine" and "genocide" he allegedly "committed" "against" the filthy kulaks, worked for the New York Times and won a Pulitzer Prize for his wonderful contributions.
http://en.wikipedia.org/wiki/Walter_Dur ... the_famine

Krasnodar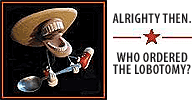 Well stated,
D
iminutive Crimson Equine of the Collective.
Also worth mentioning is the
Nobel Prize Committee.
By selecting winners such as
Yasser Arafat, Al Gore and our very own Dear Leader
( with nine days as President under his belt, no less ), this distinguished body of
unbiased objectivity
easily keeps pace with the NYT in its
quest for political truth.
BTW:
Sweating is for capitalists.

Collecting is for The State.

Fraulein Frankenfeinstein

ah yes, earning a living. Is that still being done? I thought Obama was giving us free cars and gas? Not to mention a new kitchen and a house to place it in.

It's the Rethuglicans is it not?! DO NOT LIE TO ME!!!


Comrade Loaf

Opiate of the People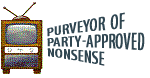 Comrade Comrade, we progressives are certainly appalled when one American worker unfairly earns more than an oppressed person who also happens to vote for our candidates or belongs to one of our unions. However, we rightfully condemn the efforts of greedy overpaid Amerikkan self-employed non-unionized contractors who would take jobs from poor oppressed Chinese people that happily work in warm, humid rooms (not sweatshops) for benevolent companies owned by our most charitable people like Steve Jobs of Apple. These rapacious Amerikkan captialists don't really need jobs but are, in reality, raaaaacists because they want to raise the price of iPads so Eric Holder can't afford more than 20 or so.

I hope that distinction is clear.