Komissar al-Blogunov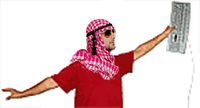 Bush has failed us. At least that's what we're told by our independent media sources that cover the same story with the same angle at the same time all the time. It's also what we hear from the Democrat Party and most of the Republican Party, especially those who are concerned with their status in the Senate club and who covet the title Maverick from the New York Times. So what are the failed policies of the Bush administration?
The tax cuts that led to economic recovery and steady growth after the 9-11 attacks must be one of those failures, because we were always told that the growth was "less" than what "experts" expected. Economic growth, therefore, must have been a bad thing and we were all too blind to see it. Thankfully, the Democrats rescued us from the disaster of further economic growth by steadfastly resisting Republican efforts for accountability and oversight of Fannie Mae and Freddie Mac. Since those two institutions accounted for half the mortgages in this country, made risky loans because they counted on a federal bailout, and converted risky loans into risky bonds, we had a stock market collapse to half its volume in mere weeks. Thanks, Dems, that was close.
Another failure has to be the liberation of Afghanistan. I know this is true because the National Organization of Women has not praised Bush for rescuing Afghan women from Sharia Law. In our country, it was about 137 years from our revolution to women being able to vote. In Afghanistan, women went from mere property to being able to run for public office in two years. This can't be progress because not one government funded abortion clinic has been built in Kandahar this whole time. Therefore, Afghanistan was a disaster.
The Mother of All Disasters was, of course, Iraq. Saddam was so popular that everybody came out to celebrate his birthday every year. Those who forgot were kindly reminded by torture or execution that they missed a really good party. Yet this gentle ruler was so callously overthrown leaving the Iraqi people without a dictatorship. Think how embarrassed they were around their neighbors when everybody else got to live under tyranny – except for Afghanistan, but we've already discussed that. Saddam never, ever, ever, ever meant to develop weapons of mass destruction, ever. It was all a Big Lie! I bet the ungrateful Kurds gassed themselves to make that nice man look bad, and the Israelis really "overreacted" by blowing up his nuclear power plant in 1981. All the equipment found for enriching uranium was planted there by Dick Cheney when he was sober, and the Iraqi air force general who said that their chemical weapons were flown to Syria before the invasion was lying. CNN, which allowed Saddam to control their coverage of Iraq, has surely told us the truth, the whole truth, and nothing but the truth. If anything had gone right in Iraq, they would certainly have been the first to tell us.
And don't be fooled by all that smoke and mirrors about there not being another terrorist attack on our soil since 2001! Ignorant and unenlightened war mongering bigots think it's because we kept the terrorists on the defensive. Not so. It's because Islam is a peaceful and tolerant religion that seeks to spread its views through intellectual persuasion. The lack of terror attacks simply proves there was never a terrorist threat in the first place. Thank you, Michael Moore, for having the courage to point that out when all those other brave anti-war protestors were executed by the millions and dumped into mass graves in Nevada under the Bush regime.
So there you have it, everybody. This administration has been nothing but one disastrous failure after another. Thankfully, we have enough citizens left in this country who can entertain deep philosophical notions like Hope, Change, and Yes, We Can to bring about a new administration with new ideas just like the ones that succeeded every other time they've been tried in the past, like the heroic appeasement of Hitler by Chamberlain that averted World War II, or the economic policies of socialism that have brought boundless prosperity to Cuba and North Korea. No doubt about it – now that we've been delivered from the failed policies of this administration, prosperity is just around the corner.

Premier Betty

It's Bush's fault!!


Grigori E.R.

Well put Komissar Blogunov. It's about time someone accurately detailed the failed policies of the Bush regime.


Grüppenfürer Radnoskovich
Comrades, the Bu$h kkkrime family must be made to pay for their egregious crimes against all humanity. Fortunately with the ascension of the Obamamessiah he will be made to pay.
I call on Henry the Waxman, Nancy the Pelosi and Harry the Reid to begin investigations immediately. Once the forgone conclusion is reached the entire Bu$h kkkrime family must be marched to the gulag under the scrutiny of the peoples eye. They must never be allowed to roam free again. Couisins, nephews, nieces, aunts and uncles, in-laws. The entire family must be quarantined in a gulag specifically constructed to contain them.

Obviously the same applies to the Cheney's. Only then comrades may Amerika rest easy and receive the bounty of the Obamamessiah.


Comrade_Tovarich

Grigori E.R.
Well put Komissar Blogunov. It's about time someone accurately detailed the failed policies of the Bush regime.
Ain't that the Pravda!

Komissar al-Blogunov