Red Square

Our friend Michael Loftus rants on stage about gun control. Mandatory viewing. If you look at the shelf behind him, you will notice the People's Cube situated appropriately on the far left.
If you were wondering what happened to the Flipside Show with Michael Loftus, it is still running, being shot dirt-cheap in Los Angeles, with no money but with a lot of enthusiasm. The reason I stopped posting their new episodes is because they are no longer available on YouTube. They, however, do post occasional rants and other segments, such as this one.

John Frum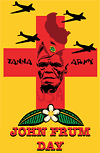 Bacon works on muslims like garlic on vampires. The cutest thing I heard today.