Kool-Aid_Man

Glorious tidings fellow comrades! I bring great news of our Chairman O's planned visit to the mystic city of Mumbai! In demonstrating his
wastrel spending habits spendthrift
belief in the equalitable distribution of wealth to all nations and
Cloward & Pivens model
virtuous magnanimosity, The Most Charitable Chairman has seen fit to rent a total of 800 rooms (to include 547 rooms at the posh Taj Mahal Hotel) for himself and his entourage!
http://www.dnaindia.com/india/report_80 ... ai_1456673
This just in..... The USS Dept. of the Treasury has announced their most industrious workers shall work double shifts this week to facilitate this grand excursion!
"All hail the God-State!"
Kool-Aid_Man

Irish Republican Army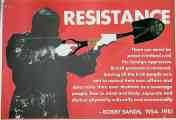 most excellent show of kindness to spread the wealth to india. i do hope that Mochelle does not get upset by being overshadowed by Glorious Leaders 800 rooms. but then 70 rooms in France is not a small acomplishment for first lady and childrens.

hmmm a month after mochelle visits France there are riots, we shall have to see what happens in a month in India.


General Confusion

Comrades,

The extra rooms are quite necessary, they are set aide for new materials [quantity discounts] for the yet to be designed fashion wardrobe, and for custom clothing that is made while on the trip. A lot of the space will be used for new shoes. Just tracking down the Water Buffalo and Elephants will take some time.
A lot of [labor] love goes into each pair.


Krasnodar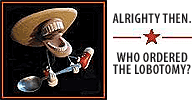 The Great Leader to bring HOPE and CHANGE...
.
" Wow, Mr. Peabody, it's like 2008 all over again !"
" Indeed it is, Sherman."
Listening to Obama and his Party telling us what a great job they are
doing is like being forced to list
en to the same bad joke...month after month,
year after year
.

RiechWing Dr. NOski

Only 800 rooms? It appears Fearless Leader is economizing, I would have thought he would have used the entire facility! Small price to pay for Hope and Change and all that happy shit and all Comrades are most happy that our wealth is being redistributed for such a worthy endeavor. Remember "spreading the wealth is good for everyone", Yes, Remember in November. I hope November 3rd Fearless Leader will be beside himself with our outpouring of support for his magnificent agenda.

Yes Comrades, the Progressive force is strong with is strong with this One. Obama-Wan Kenyan-obi has almost completed his DEBT STAR. Pay no attention to the man behind the Irony Curtain nothing to see here, just move along. We are all just happy proles are we not?

Hope for Change,
Dr. NOski