Commissar Obamissar V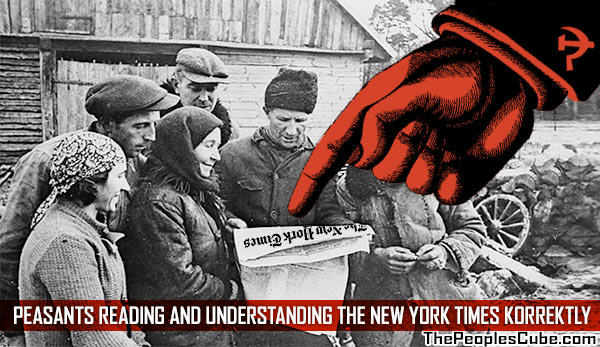 Comrades! I bring great news from the trenches of progressive reeducation!!
The Party News Organ, our very own New York Times, in full recognition of the fact that proles are incapable of reading and comprehending its news articles (through no fault of the progressive education system, of course), has developed a method of ensuring proles form the korrect opinions.
Here's a
SAMPLE...
First, the NYT frames the article in a historical context using
cherry-picked
carefully selected questions and content for proles to consider before reading the article.
The Party Organ
What do you know about Hillary Rodham Clinton? What government positions has she held? What political office is she running for now?

Then watch this short video containing footage of Mrs. Clinton testifying before two House committees, one in 1993 and another on Thursday. What do you notice about her performance in the two situations?
Using a grade school workbook format, it then provides some short essay questions to answer after reading the article to make sure the prole saw the points The Party wants him/her/variations-thereupon to see. If said prole can't answer the questions, he/she/variations-thereupon feels less equal, self-denounces, and returns to the written Platform 6 that is a NYT article for reeducation.
The arbiter of The Current Truth
1. Why did Hillary Rodham Clinton testify before a select House committee on Thursday? What case are Republican lawmakers trying to make about Mrs. Clinton when she was secretary of state in 2012?
2. What accusations did Democrats on the committee level at Republicans? Why are they exasperated?
3. What did Mrs. Clinton testify during the hearing? What are three key points she tried to make?
4. What are three key points Republican lawmakers asserted during the hearing?
5. There has been a lot of discussion about Mrs. Clinton's emails in the news media for the past several months. Why do many Republicans think her use of a private email server during her time as secretary of state is an important issue? Why do many Democrats think the focus on Mrs. Clinton's emails is not a concern worthy of the attention it has been getting?
Finally, for proles who want to engage in sophisticated interactions with local commissars, NYT provides a generator of advanced talking points. The questions are designed to appear objective and without bias, but through subtle techniques like ordering the most important question last, any prole will conclude that our MTE is a victim and feel most equal for arriving at the korrect opinion without the need for expensive, pre-printed protest signs.
The People's Paper

Watch this video of Representative Trey Gowdy of South Carolina, chairman of the select House committee, defending the committee's work. Then read 'Benghazi Panel's Leader Under Fire as He Prepares to Face Hillary Clinton.' Why is Mr. Gowdy "under fire" even though he is the one leading the hearing?

To go into more depth in learning about Thursday's hearing, look through this series of highlights from Mrs. Clinton's day at the Benghazi panel. Do you have any reactions to any of these key moments? Do you think Republican committee members are making a stronger case? Or do you think Democratic committee members, or Mrs. Clinton herself, are making a stronger case?
Bravo, NYT. Bra....VO! Well done! Can we give the NYT our prestigious Beet Of The Week?? Perhaps a Hero Of The People??? Oh! I know. NOBEL PEACE PRIZE! By eliminating regressive thought, the world will be a safer place for us all and Next Tuesday will be one day closer.

Captain Craptek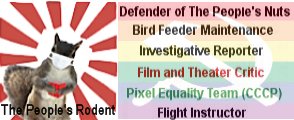 Anon E Mouse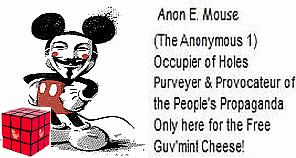 Seems quite a few reeducation is going on Forward…
Quote:
Time to make Beet Wine for communion!

Comrade Putout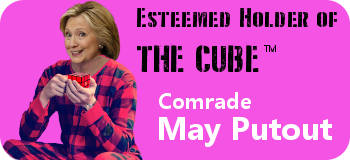 And Now Trump's Reeducator Opts Out
.

Lev Termen
Commissar Obamissar V made me wish for TP when he
The Party News Organ, our very own New York Times, ...

huh-huh-huh, party organ ...

Comrade Putout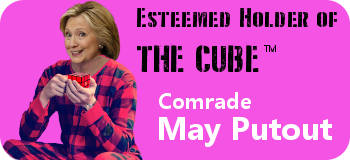 .




Captain Craptek

takes his '

I'm Not A Flying Squirrel

' comedy tour to Dubai...


.

Commissar Obamissar V

Lev Termen
Commissar Obamissar V made me wish for TP when he said"

It's important to remember that The People's Paper is well suited to being recycled in The People's Potty, before or after being read.
Lev Termen
huh-huh-huh, party organ ...
That's what she said!!

Commissar Obamissar V

Also, I selfishly and self-promotingly nominate this thread's glorious image, which was rationed to me by a most benevolent dictator, for the News We Just Don't Have Time To Write About section.

It would look quite smashing there...