Karl Marx Treatment Center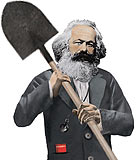 And you thought Ocasio-Cortez was being hyperbolical when she compared the struggle with climate change to World War Two!

No!

The Planet needs living-room!

Watch this latest video by Ocasio-Cortez and you'll see how she plans to turn society into an army whose mission is to conquer territory and create living-room for the Planet. The video shows how this will be accomplished. Work is going to become tearing down civilization so as to make living-room for the Planet.

Where are these places shown in the video being turned back to wilderness? These places can only be where humanity is right now; our towns, our cities, our civilization.

She also proposes a new timeline for the Life of Julia.

There are a lot of ramifications to this plan. /s




Clara Illbustyourballs Zetkin
Here is the kitchen sink Komrade AOC forgot to throw into her cartoon diatribe.
It is clogged because of climate change (AKA the weather).

P.P. Gogol

KMTC
She also proposes a new timeline for the Life of Julia.
March 9, 1940 – October 24, 1994. RIP Gomez Addams.

RedDiaperette

Karl Marx Treatment Center
And you thought Ocasio-Cortez was being hyperbolical when she compared the struggle with climate change to World War Two!

No!



The Planet needs living-room!



Watch this latest video by Ocasio-Cortez and you'll see how she plans to turn society into an army whose mission is to conquer territory and

create living-room

for the Planet. The video shows how this will be accomplished. Work is going to become tearing down civilization so as to make living-room for the Planet.....


Indeed, the planet also needs a dining room, a bathroom, and -- as Comrade Clara points out above -- a kitchen in which to place the kitchen sink that had to be left out of the video. (The bathroom, of course, will have a composting toilet and corncobs in lieu of paper.)
(What? Lebensraum? Is that a new beer? I do not understand.)
[OFF]
The video isn't a spoof? It's for real? I thought it was Cubist humor. Hard to tell the difference these days.

jackalopelipsky

Jackalopelipsky is with co-mammal...but not imaginary co-mammal, Red D. All Jackalopelipsky ever wanted was just the rug that tied the living room together. If that's going to be resolved, Jackalopelipsky is all in for fair share Lenensraum.


Red Square

I thought we already had one messenger from the future here. Or has the current truth changed without notice?