darski

I am astonished by this article:
Quote:
Prominent American painter and philanthropist George W. Bush—the post-aughts iteration of the former United States President—has managed a resurgence as a beloved personality and even online "hipster icon."
I feel so abandoned by The Party
. How could this happen? Somebody up there has been caught napping. Somebody I trusted to keep the universe spinning and all right in the world. What can be right when Bush is getting a free ride on the culture train?
Sob, sob, sob
My universe is shattered that The Party
has let me down.
I admit that I have been thinking and I will of course get myself to the train station.
but somebody needs to join me there

Captain Craptek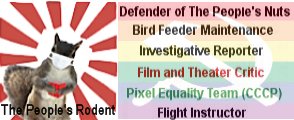 Don't give up hope, Comrade darski. The folks down at visual agitprop may yet save the day. (although, I must admit, these GWB paintings are only worthy of the incinerator)




Ivan Betinov

I'm not high enough up the body politic to be a hiptser. The furthest I've ever gotten was keister.