Red Rooster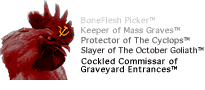 All you prole comrades have problems with angry agitated Rooster…
Hmmmmph…
Just listen to Comrade "Beat Em Up" Barkley explain in NBA fashion….
"BARKLEY: And let me tell you, Mr. Zimmerman was wrong to pursue [racist!] -- he was racial profiling [...leave them kids alone!]. I think Trayvon Martin, God rest his [gay bashing] soul, I think he did flip the switch and started beating the hell out of Mr. Zimmerman [because he thought he was gay... hello?].
But it was just a bad situation [beat up the gay dude... got it]. And like I said, the main thing I feel bad for[is?], it gives every black and white person who is racist a platform to vent their ignorance [thank you dear leader!]."
You see! We vile progs have a place and purpose…
we may be
mad, angry, disgruntled, unyielding, kick-your-face-in-pissed
….
but there is reason Comrades, there is reason…. [not clarified by us....]
NOW SHUT UP!!!!
[We're busy]

Crystal Moon

Ahhhh.......Black men are so dreamy. So dark and mysterious. You never really know what they're thinking. But they do "vent their ignorance" with much more authority then some stupid middle aged republican white guy (a.k.a "creepy ass-cracker").


ThePeoplesComrade

Comrade Rooster, I see your attraction to Charles Barkley with all his constant crowing.


Red Rooster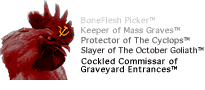 Sick!

[video]https://www.youtube.com/watch?v=xqXAW2snGMI[video]

We are Trayvonning at Party Central™, stick to your Fergunson