Ivan the Stakhanovets

Confederate emblem removed at U.S. Capitol
As part of the "fundamental transformation" of the US, the
red
State flags with discriminatory and divisive confederate symbology have been removed from the US capitol.
"... the flags, which had been removed during renovations, will instead be replaced with prints of each state's commemorative coin..."
This removal of the flags represents the denial of the sovereign entity of the state, while the display of a state coin shows the Federal coffers still accepting the tax contributions that each (former) state must continue to provide to support the other 56 states.

Comrade Abrakham Linkol'n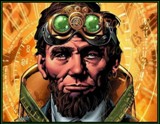 Long live my 150 year neo-communism revolution. The 300,000 dead Confederate soldiers are American Veterans through act of the Socialist U.S. Congress. Their memory must be erased and next in line will be WWI, WWII, Korea, Vietnam and all other veterans of the Imperialist Nation of the former United States.
The revolutionary rebels have a new slogan: "One comes down, one thousand go up". This must be stopped at all cost as their heritage endangers our propaganda machine. April has been identified as Confederate Heritage Month. Oh Hell, "The Donald" has unleashed a run away train of Nationalism.