Superkommissar Maksim

Klein Arrested in Nigerian Scam Sting
TORONTO - Naomi Klein the award-winning leftist journalist, syndicated columnist and author of The Shock Doctrine: The Rise of Disaster Capitalism and No Logo: Taking Aim at the Brand Bullies was arrested today for her involvement in the Nigerian advance fee fraud, also known as the Nigerian 419 scam.
Royal Canadian Mounted police yesterday hailed the arrest of Ms. Klein and her international gang of fraudsters as a landmark victory against internet crime, following a sting across four countries.In his statement to the press the head of the RCMP said they have evidence linking Klein's illegal internet activities to funding of South American Marxist insurgent guerrilla groups FARC (Revolutionary Armed Forces of Colombia) and ELN (National Liberation Army).
In an interesting twist it has been discovered the Klein is also behind the marketing campaigns of FARC and ELN. An unnamed high ranking insider stated that Klein designed logos for both groups.
Lynne Stewart radical disbarred human rights attorney who is advising Klein made the following statement. "Naomi knows she committed no crime. Naomi knows what she did was right". In 2005, Stewart was convicted on charges of conspiracy and providing material support to terrorists and sentenced to 28 months in prison, she is currently free on bail.
Some say that the whole thing is reminiscent of Iran-Contra.

Red Square

Maksim Maksimovich
An unnamed high ranking insider stated that Klein designed logos for both groups.
Good job! Now I wouldn't be surprised to learn that she also did the HTML formatting for the above post!
Naomi Klein for People's Cube editor!!!

Premier Betty

Is there anything she can't do?


Father Prog Theocritus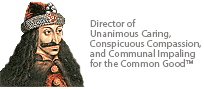 I believe that Kanadistan is the world leader in telephone fraud, so it's a natural link-up with Nigerian 419 fraud. And thank you for reminding me of Lynne Stewart; how could I have left her off the A list for the Hildo parties at the Rancho?


Marshal Pupovich

What? They are actually arresting comrades for fund raising for the poor and deprived peoples of the world? Is there no end to these imperialist's cruelty? Why, that is one of my most profitable fund raisers that my employees at the Party Pleasure Palaces engage in during their off peak hours.