Pamalinsky

As you already know, comrades, we always try to keep abreast (no female body parts intended, in case that might offend someone) of current trends in the media. That includes many of our own who have made the choice to be "fluid" in their choice of party loyalty, just like Caitlin Jenner. One of these fluidy types is our own Ben Carson, who has flabbergasted us all by soaring to great heights in the current polls.
I mean, he's just a brain surgeon, that's all, and has no experience in the transgender area. Go figure.
Ben Carson Edging Close to Front-Runner Trump in Latest Iowa Poll
Nonetheless, we do give him an upgrade from Uncle Tom to Uncle Ben. Isn't that great of us?
We do this while simmering with hate for all he stands for: things like saving lives, separating conjoined twins, removing brain tumors from infants, etc.
Thing is, we don't want to look bad by denying him his trophy. We can't say nasty things about him. It doesn't look right. So, after a ten-minute meeting, we upgraded him to Uncle Ben (and we felt so good about ourselves we couldn't stand it)!
So, there ya go, comrades: Ben Carson, our former Uncle Tom, now our new Uncle Ben!
Are we great or what?
I smell a new advertising deal with Rice-a-Roni! The San Francisco Treat!

Kapitan Kangaroo Kourt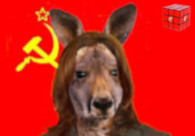 A ten minute meeting? What happened to 2 minute rice and 2 minute oats? Wait......is that racist?