Hammer and Loupe

At the National Conference of Democratic Mayors, leaders addressing the
traffic congestion issue
, came to a consensus that the reason for long and stressful commutes is automobiles on the road. Yes comrades, the American people are in possession of too many vehicles.
The mayors have found a solution, however, to be implemented immediately: all city roads should be accessible for bicycles and tractors only. This will benefit all city residents, removing gas-guzzling, carbon-spewing trucks, buses, and cars from their streets. The provision also includes a ban on horses and mules who have been known to release greenhouse gases. The only exception is made for tractors used by farmers to feed the city dwellers.
The road to Next Tuesday, comrades, will be traveled on bicycles and tractors!
Forward!

Lev Termen
As my sainted grandfather used to say, "Bless them, and the horses they rode in on." Or something close to that.


OksanaTheTerrible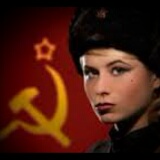 Around here, they're getting rid of all the jobs so people don't have to commute and spew nasty greenhouse gasses into the atmosphere. Let's leave that to our leaders and the Hollywood elite with their private jets.


RedDiaperette

I cannot believe they would ban horses. Horses are a source of increased jobs in government, where manure shoveling is a primary requisite for promotion.