Red Square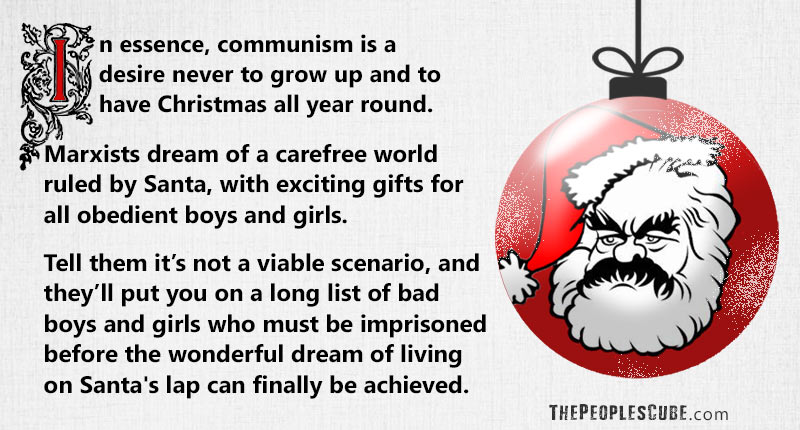 In essence, communism is a desire never to grow up and to have Christmas all year round.

Marxists dream of a carefree world ruled by Santa, with exciting gifts for all obedient boys and girls.

Tell them it's not a viable scenario, and they'll put you on a long list of bad boys and girls who must be imprisoned before the wonderful dream of living on Santa's lap can finally be achieved.
Merry Christmas Solstice MarXmas!
Welcome to our special "Merry Solstice" page for more holiday awareness, progressive depression, and collective self-criticism.
Disturbing music and upsetting graphics from Visual Agitation Directorate will bring true holiday feeling down where it belongs. Send this page to your friend/partner/home appliance to
ruin
correct his/her/its
Christma
s Solstice experience.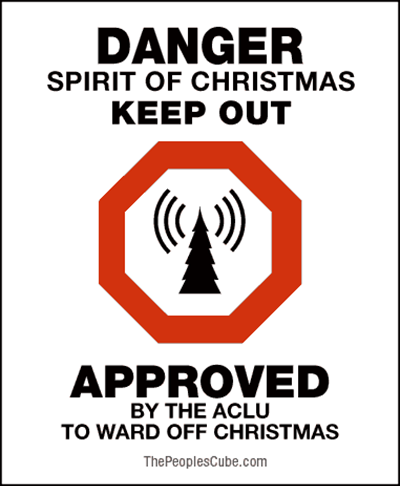 Dear Person


(hereinafter called the wishee):

Please accept with no obligation, implied or implicit, our best wishes for an environmentally conscious, socially responsible, low-stress, non-addictive, gender-neutral celebration of the winter solstice holiday, practiced within the most enjoyable traditions of the religious persuasion of your choice, or secular practices of your choice, with respect for the religious/secular persuasion and/or traditions of others, or their choice not to practice religious or secular traditions at all.
MORE...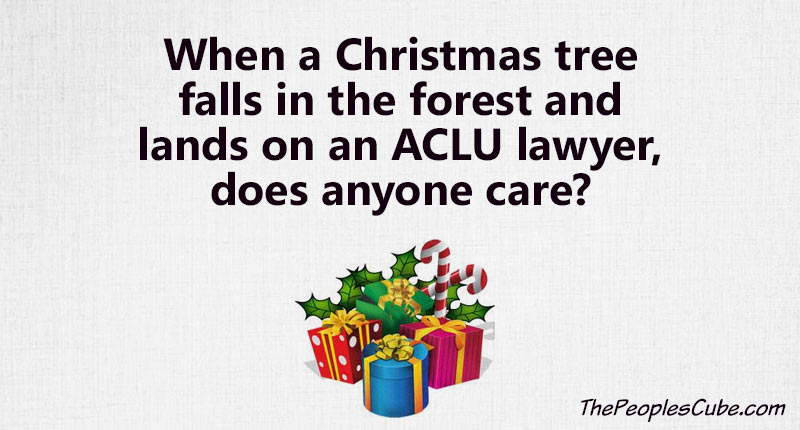 ---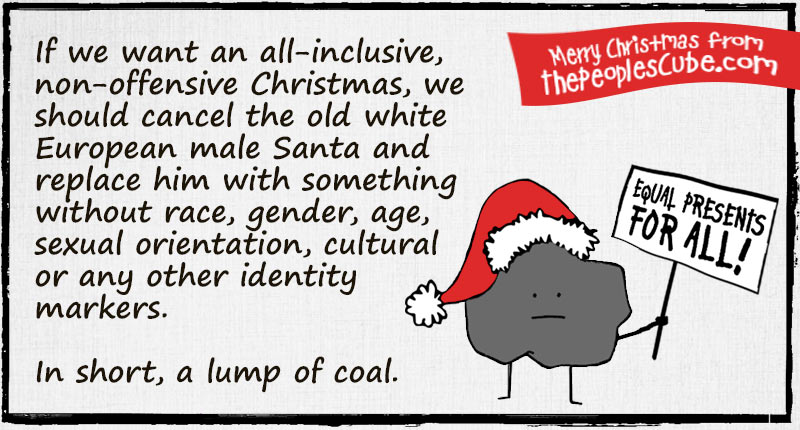 ---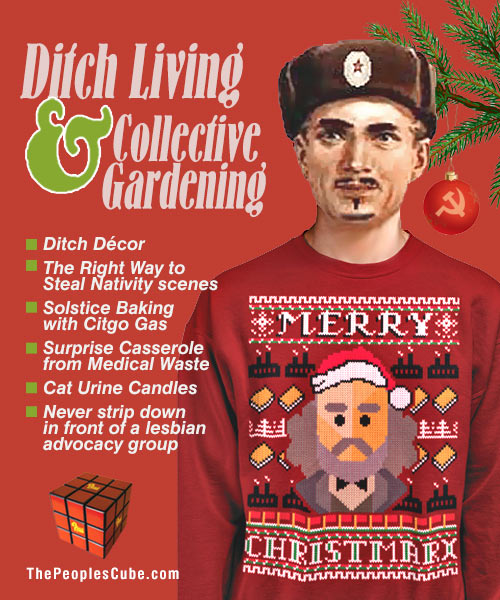 MORE...
---
How did the ancient mass media report the alleged birth of Christ? The following compilation of quotes from the Roman and Judean sources should help you form an unbiased opinion about what really happened...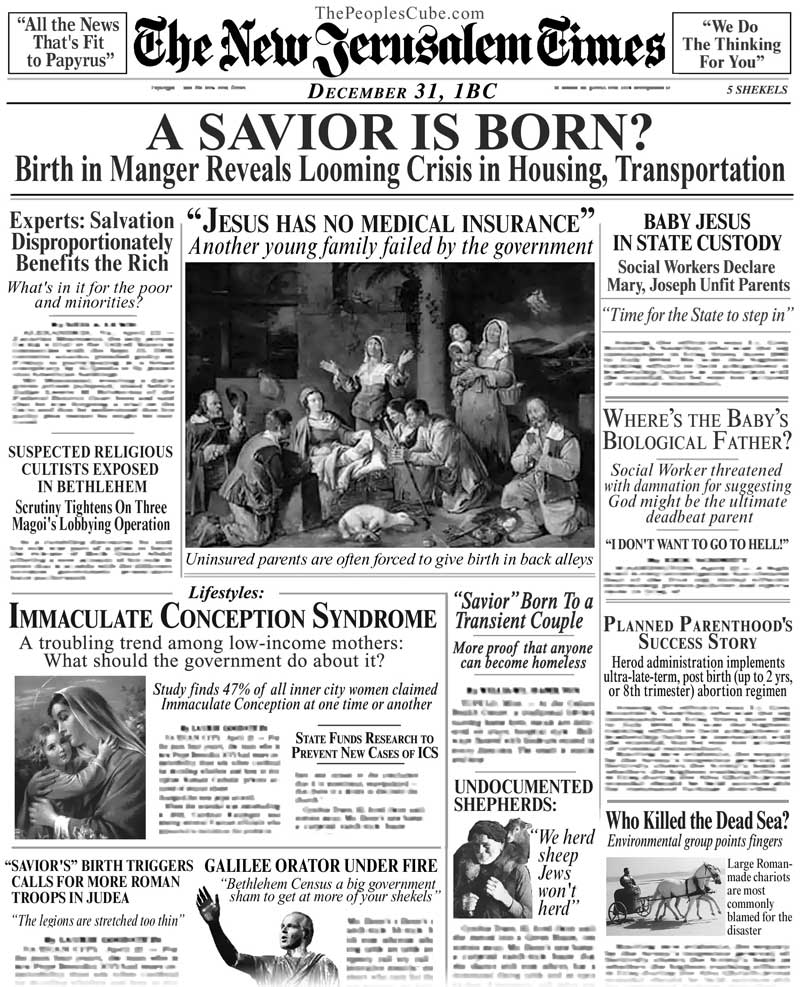 MORE...
And finally, this year's Christmas gift straignt from the Chinese Communist Party.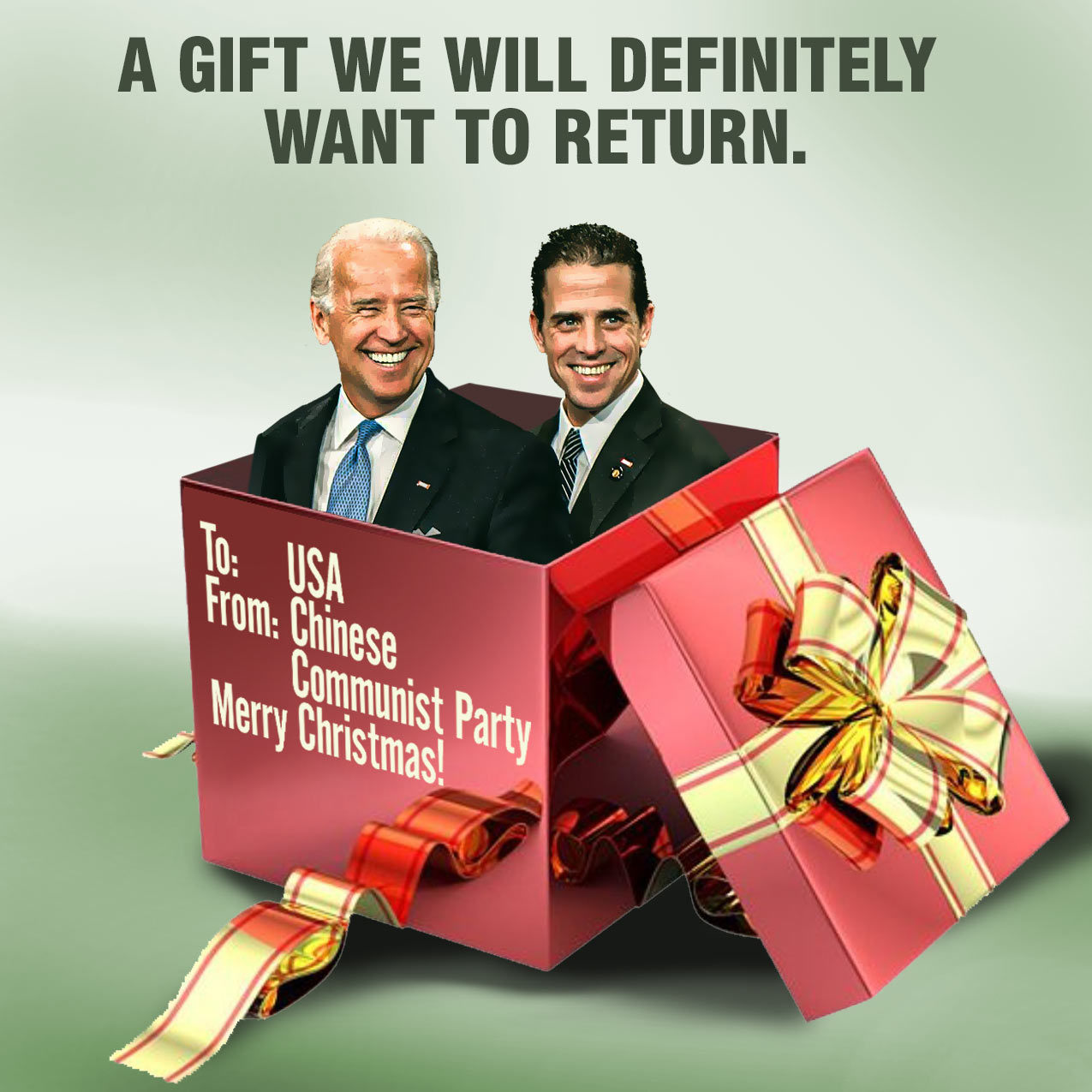 Minitrue

In fact, I once considered creating the "Santa Claus" party: socialism on steroids, free gifts for everyone. "The elves making the gifts are your grandchildren, but they don't know it yet."

Merry Marxmas, comrades!


jackalopelipsky

Red Square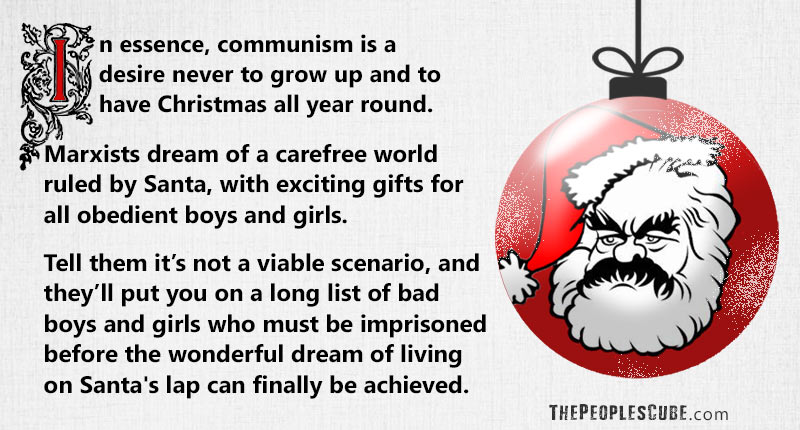 The Future Shock goin' on in the mythical mind of a mere horned rodent is totally so flux capacitated to the past to realize it's been Communism all along. Why, comrades, 'pelipsky had to get Mr. J. to scuttlin'g that box of coal we received from the 'in'-J's posing as Santa. All children received same. Coal in a stocking. Tradition of not caring about others has not changed since same 1968 tinsel saved and reattached to tree every Marxmas.
True.
It's always been communism, here in America...we ain't tried Made In America TPC™ kommunism Yet.
Reminds 'pelipsky of time 2nd grade practice of radical equality with Mother. See, comrades, 'pelipsky had experienced this super taste extravaganza in properly served coffee as guest of piano teacher. It was bliss. So, when comrade 'pelipsky left the communal breakfast table, next Saturday, empowered by radical notion to march 2nd grade sprout over to communal kitchen counter to get an equal mug of that perculated brew like a radical equal in the commune.
Well, 'pelipsky failed Radical Equality. Big Time.
NYET on coffee forever until 'pelipsky became adult.
And, now Red Square, the expert of how things run by communists reminds 'pelipsky of the GUILT born since failing Radical Equality because the day 'pelipsky just poured a mug of joe, meant the end of communism and the beginning of the real adult world without --- communism.
W.h.a.t.?? Is like Reaganistalinzy actually d.e.a.d. Who can we blame for everything? Is like virtualreality world coming to e.n.d. Comrades are still contracting AIDS because of Reaganistalinzy!!
Then, the Santa material for a coal scuttle arrived. Coal...it's almost worth $20.00US. Who'll give 'pelipsky 2020?
Is this Re-Future Shock??
Has this Russian hacked virus manifested itself in its full capacity for comrades to realityize:It's ALWAYS been Communism here in the MotherLand of Amerikkka. At least in 'pelipsky's mind's experience it has.
As long as 'pelipsky can even re-imagine back to failing Radical Equality Class??
Does Joe Biden's promise of Communism really mean sitting on his lap, listenin' to him talk about these two lumps of coal he has just waiting in a stockin' for Marxmas for good little sprouts.
This is too much ReShocked Future for a mythical horned rodent's mind to flux capacitate at the moment.
What if it's been Communism here in the Mother'MericaLand ever since 'pelipsky, Cold War sprout, failed Radical Equality.
forelocktuggedinperplexity,
'pelipsky