Ivan the Stakhanovets

We welcome the new refugees from middle eastern countries! By your "act of love" in coming here, you bring us cultural diversity and your generous willingness to do the dirty jobs that overfed Americans just won't do, like wage jihad, wear suicide vests, marry our young girls, or behead those who stray from the party line!

Ivan Betinov

It's a dirty bomb, but somebody's got to build it. Here's to America's new workforce of willing engineers!


trashmouth

Comrade Ivan the Stakhanovets, I find it rather interesting that you wasted no time blaming jihad, stonings, beheadings and you forgot rape or other vile acts on "Islamofascists" or so called "Quoranderthals". As a good progressive, I find it rather appalling that day in and day out those far reight wing whores and others, except Democrat sympathizers, and like minded progressives, continue to trash the religious beliefs of people who have only turned their swords into objects of mass destruction and objects of violence. Comrade, we can, YES, we can end this clear cut distinction of good and evil, only when the appropriate amount of the infidels monuments to civilization has been destroyed, as well as enough infidels brutally gun down can Muslims and infidels finally co-exist in peace and harmony…as long as you express burning hatred of Christians and stop the hate speech which hurts the feelings of these freedom fighters for the sake of national defense .


Comrade Stierlitz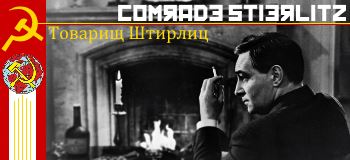 Ivan Betinov
It's a dirty bomb, but somebody's got to build it. Here's to America's new workforce of willing engineers!
Wait-wait-wait, I've got a theory. Maybe these people aren't refugees, but actually factory workers to make bombs so that we can revolutionize the entire world! Cheap labor! No longer will we have to mess around with those silly labor laws and actually paying people a fair wage, we can just transition into "more equal than others" kollektive labor where we give them the best of things whereas we only get a bag of flour and a gallon of milk a year! And not even that!
And we can even have them be the engineers, they already know how to make bombs anyway, so why not give them access to some really choice explosives so that they can enact their dreams! To bring about the revolution means following your dreams anyhow, it's what we do all the time, so why not let them kill the infidels using nuclear explosives? It's great AND efficient, because we won't have to kill them! It's a win-win!

John Frum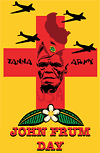 Meanwhile Charlie Hebdo has published this reactionary vignette. The text reads "What would the little Aylan become if he grew up? Ass hunter in Germany."

John Frum