Adnan Hajj
http://www.mogadishuuniversity.com/MBA.htm
Mogadishu University
Master Of Business Administration (MBA)
Introduction
Since its inception, Mogadishu University has been striving for best quality of tertiary education and spreading it throughout the country as educating people plays a vital role in the development of any nation.
The aim of the postgraduate programme is to produce personal and respectful conduct of citizens armed with knowledge, skills, and moral values. This will lead them to participate in their communities in a constructive and respectful way for developing the country.
After seven years from its inception, MU has seen the important need of opening postgraduate studies programme to realize the dreams of many Somali gradates, particularly the poor who can not withstand high fees at universities in abroad, and those who work in their country and have had long ambitions to pursue their post graduate studies.
In 2003, however, after long discussions about the resources and opportunities available, MU introduced postgraduate programmes in collaboration with international universities. Umo Durman Islamic University became the first to sign on this programme. Both universities have launched diploma, master, and PhD's degrees in education and sharia law.
As number of the graduates has been increasing yearly particularly in the field of management and business administration, the need for post graduate programme became pressing demand
Furthermore; the increasing need of both public and private sectors for well qualified experts in business and administration has become driven demand and to cope with this pressing need, MU introduced Masters Degrees of Business Administration program in collaboration with Open University of Malaysia.
OUM MBA progamme has international academic cooperation links with reputed universities in Europe and America
Objectives of the Programme
Enhance managerial competences
Sharpen analytical and conceptual skills
Improve employability and managerial career development
The programme challenges with the cutting edge knowledge and competence to cope with increasing demands of managerial work.
Thus the programme is designed to strengthen managerial skills and capability in managing organizations efficiently and effectively.
The Importance of the Progamme in Somalia
It is a great chance for those who are not able to travel in abroad for post graduate studies.
The programme also gives chance graduates working in their country. They can work and at the same study in their country.
As the number of experts in business and administration increases, the development of the country becomes stronger and competitive.
Thus MU is convinced that this new programme study will present significant role in meeting the demand driven in managerial management and business specializations in post graduate studies.
The degree courses focus on preparing students for their challenging roles in the global specifically people for management and business in public and private sectors.

Komissar al-Blogunov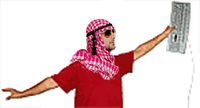 And why do our media outlets disparage these progressives with offensive, denigrating, and racist terms like

pirate

? These Somali freedom fighters are simply spreading the wealth around to bring hope and change, lots more change, to Somalia so they can underwrite more programmes at Mogadishu University.
These ethnic slurs from our media outlets, who really should know better, are disturbing to say the least. Couple that with the derogatory comment about Dear Leader from al Qaeda and one wonders what the world is coming to. I blame Bush for this rampant racism. Eight years of his administration, which has executed 350,000,000 of its own citizens, has so deeply embedded racism into the minds of the public that even progressive, formerly enlightened institutions have been blinded by it. The damage may be irreversible.
Does MU have an adequately funded programme for combating racist attitudes in Amerikkka?
The People's Comrade
Unfortunately that 350,000,000 will probably be quoted by our European friends. I couldn't believe the lunacy I was hearing on our recent Baltic cruise ... it was a people's cruise to be sure. Truth seems illusive to many.


Komissar al-Blogunov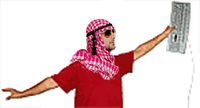 Cone of Silence
It is astonishing what otherwise intelligent people will believe. Along those lines, I've been particularly peeved at Republicans for jumping on the garbage truck band wagon with the liberals to decry the "failed policies of the Bush administration" which have brought us steady economic growth, freedom to 50,000,000 people in Iraq and Afghanistan, and have kept the terrorists on the defensive so that there has not been another attack on our soil in more than seven years. When the next attack comes, about 11 liberals are going to think, "You know, Bush knew how to deal with terrorists." The remainder will of course continue to blame him.

Comrade_Tovarich

Comrades,

What kind of institution is this that it does not give credit for life experience? I am alive and experienced in kolkhoz managing, youth indoctrination, and roller skating backwards. Oh, and I have drivers' licenses in two countries. That should be worth a PhD at least.

This university seems both exclusionary and discriminatory. To get revenge, I shall pirate their degrees and put them out of business.


Comrade_Tovarich

Comrades,
Once upon a time, following the stolen election of 2004, a glorious website was born called
ChooseTheBlue
(now defunct, as a click will show you). It listed companies that donated only or significantly to Democrats, which is why I sold my DreamWorks shares at a profit, back when that was possible.
My point, comrades, is that by resurrecting the website, could Somali pirates not be taught to ChooseTheBlue? I mean, really, if anyone is "spreading the wealth around" for real, it's those guys.
I do note that
Somali Islamists have decided to act against Somali pirates
. Of course, only against the pirates who attack Muslim ships. It's good to see class and identity politics in action.

Commissar_Elliott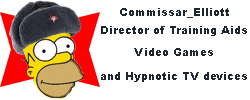 I've got the answer! How would the Somali Wealth Adjusting Progressives (SWAP's) learn about kapitalism, hmmmm. . .? From the Bushitler of course! This is just more evidence of the Bushitler's involvement in 9/11!


Adnan Hajj
From Peter Brookes, who operates behind enemy lines in the United Kingdom.