Red Badger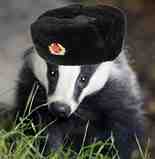 Wisconsin Governor Tony Evers signed the "Safer At Home" order today after deciding that the outside world is just too dangerous for grown adults.
Evers suggested the state needed an 'all-hands-on-deck approach' to slow the growth of COVID-19 in Wisconsin. Naturally, prohibiting residents of the state from leaving their homes was the best way to accomplish that.
According to the order, only "essential activities" will be allowed. When asked for clarification on what constituted essential activities or how essential business operations were defined, Evers responded that "It's not soup yet, otherwise I would tell you it is soup, but it will be close to being soup tomorrow." We assume Governor Evers will share his soup with the residents of Wisconsin in the coming days.
Notably prohibited are "dinner parties, sleepovers or playdates." All travel is forbidden unless fleeing fom the state (or returning to the state).
For the duration of the order, residents are directed to refrain from any business or productive activities and wash their hands with soap and water for 20 seconds as frequently as possible. Failure to do so is punishable by up to 30 days imprisonment, or up to $250 fine, or both.
Evers is expected to award himself The Order of Friendship of Peoples at a ceremony later today for demonstrating that he cares the most about "the peoples."
https://evers.wi.gov/Documents/COVID19/ ... AtHome.pdf