Fraulein Frankenfeinstein

Glorious Comrade, Party Elite and simple proles (and you know who you are!),
Dearest Leaders Auntie Zeituni is setting the
most glorious example
for all new & future undocumented Democrats. She has been
mooching off
taxpayers
a
squatter
undocumented visitor here since 2000, living for free in government provide housing, been given a freely government supplied attorney, and government provided food entitlements, as well as other healthy assistance.
But glorious news! She has now been given "asylum" (I thought being in an asylum was not a good thing, but I have been shown wrong. It is good to be asylumed!) although and even though, she was told to deport herself in 2004. (this was
all
Bushitler's fault and has now been corrected!!.... and on a side noted, she appeared in court in her government provide wheeling chair. Do you not love these battery operated vehicles, do you not?!)
I am so proud of our Barack Hussein Obama who has successfully avoided any & all personal responsibility for his own relatives (could we not all learn from this excellent example of an example?!). .
~
She proudly bragged that she deserved all that she has received because the Amerikkkan system allowed it and because "she's had it very very hard". You see! What did I tell you? Fortunately too, she has been declared "disabled" and thus, entitle to even more freebies. Is not the glorious part of Amerikkka? But I digress . . .
Now we are hearing the gnarly nasty Rethuglican types saying dearest fearless Leader should be paying for little Auntie Zeituni.
Ridiculous, I say!
Why should
we
he pay when benevolent government can provide for her?! Is this not what we all strive for?! That all of us in Amerikka have it all for free?
Support Auntie Z and her struggle to over come & snooker the Amerikkkan system!

Vladimir_Scratchanitch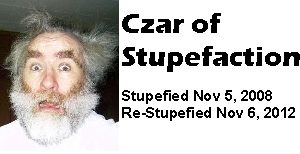 Dearest Fraulein Pulloskis,

This is Redistribution of WealthTM at it's finest.

If comrade O had helped Auntie Zeituni out of his own pocket, that would have been something like Christian charity.

Which is against the religion of the Ruling ClassTM.


Sugar Daddy Bear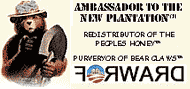 This may be well and good for Auntie Z, but please—PLEASE—don't tell Dear Leader's brother George about this! We don't want to start a... chain migration!


Mrs Al Czarweary

At least she is beyond age of reproduction and there will not be any little Zeitunis running all over the Amerikkka.


Comrade Whoopie

The only thing I find troubling is her insistence that whatever money she gets comes from Heaven. Otherwise, her sense of entitlement is adorable. We have an obligation to make her a citizen, even though she says her life here has been an ordeal. How charming is that?

I think we should find her a country where she can be happy and make her a citizen there. I'm sure money will fall like a gentle rain from Heaven where ever she is.


Mrs Al Czarweary

Hmmm... Comrade Whoopie... if Dear Leader is to have his way Amerikka will soon be Obamastan and so many of the peoples will be feeling of its happiness.


Shovel 4 U


So accomplished in the ways of the Party ™ .
No wonder Dear Leader is the "One We've Been Waiting For" ™ coming from such a upstanding family.

Dear Leader must be so proud. (sniff, sniff)
I know I am. (sniff, sniff)

Why she is not a made Czar of Immigration Victimization is beyond me, I will carry this question to the grave.


Fraulein Frankenfeinstein

Vladimir, "Christian charity"?! That makes me spit. spit spit

Why, she did say that did she not, Whoopie?! Thanking heaven instead of Obama who should be receiving all thankfulness. She is one we need to keep an Obama regimeeye on.

Fortunately for us, Whinny, I think the chain migration has already started. Mexico is now almost empty... is African next? Only Obama knows.

Dear Mrs. Al, Obamastan - what a glorious idea! United States of Obamastan. Entitlements, redistribution . . . making our dreams come true.

Comrade Shovel, making her a Czar of Immigration Victimization is a stunning thought. I must get a Memo off to Rahm immediately... and of course, cough cough, giving you full credit.