Red Square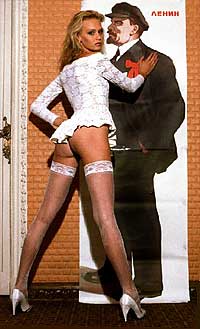 Ollie Abbot
What I always wanted to know about Lenin but was afraid to ask

Mark Felt
Deep Throat Finds A Perfect Match

Stalin
"... when I said 'political prostitutes' I meant POLITCAL prostitutes! Like Trotsky! Get the bitch off my face!"

Alger Hiss
When two arms of the Democratic Party come together...

Barbara Boxer
Mail Order Inflatable Lenin Doll

(I have the whole set at home - Marx, Engels, and Lenin. Can't wait for the new Young Stalin model next year. Not so hot for the Mao doll - unless they enhance the anatomical deficiencies, I mean.)

Would you perhaps like a John Kerry doll? Just wondering.

- Red Square


Premier Betty

What happened to the Che Chicks? I liked that picture!

Che Chicks are currently on an extended secret assignment.

Red Square

Kommander Kenneth
That's Comrade Lenin "standing firm" on demonstrating his "proletarian position" Notice the equality? Nobody is on top, nobody is on their knees and nobody is getting it from behind. Pure social-sexual justice for the masses. Brilliant!


Comrade Commissar
From each according to (their) ability; to each according to his needs.
Source: Nikolai
Lenin
, State and Revolution, 1916