Father Prog Theocritus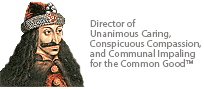 And Theo van Gough's partner, in the film, Ayaan Hirsi Ali, could no longer be protected by the Dutch and she'd in America at the Heritage Foundation. Another member of the Dutch Parliament made a movie, Fitna, which was disobliging to the much traduced Muslims, and the Dutch, gladly throwing over their proud heritage, sent emissaries to the Middle East saying, "We don't support him."

The Dutch police cordoned off the Dutch parliament and the shopkeepers around it send the filmmaker a bill for the lost revenues.

Such is the courage of the Dutch.


Cradle to Grave Marxist

Ah, the Gaza light bulb jokes...I remember a light bulb joke a progressive young Israeli woman told me in the bus at the check point into Bethlehem in 1996.

Q: How many Israeli men does it take to change the light bulb above the kitchen sink?

A: NONE. Let the bitch wash the dishes in the dark.


Father Prog Theocritus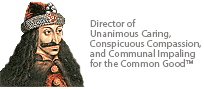 Q: How many Jewish mothers does it take to change a light bulb?
A: Don't bother. I'll just sit here in the dark.

Told me by a Jew in college.


Premier Betty

Very.


The Skinnee Jay

Q: How many commies does it take to change a lightbulb?
A: All of them, they share the work equally.