Genosse Dummkopf

This is good news, Comrades!
Moscow, eager to extend the Internationally Beloved Reset (a.k.a.
famous
PEREGRUZKA
in ClintObamSpeak) for the next couple of years, will bend the election the hackety-hack way to keep Beloved Empress vertical!
Trump, reading this - while at breakfast - nearly choked on the ostrich egg he routinely chomps down in the morning, despicable 1%er he.
Gimme that damn' sunambitch Vladya in Kremlin, hurry up, pronto, pronto
- roared Trump.
. . . now, Vladya online, in conference mode, 6 × 9 on a giant screen in Trump's breakfast parlor.
~
Trump, for amplifying effect banging his shoe on the table (and applying Russian expletives he learned exactly for such conversations) :
ty s uma sashyol, ty durak? why you goin' to keep upright that crumbling Chernenko 2.0? you do that, and you will see a yuuuge surprise, I tellya, a yuuge surprise, unbelievably yuuuge, a terrific surprise, I tellya!
Musulmans hunt in Palestina to grab an ostrich (Struthio camelus) egg for Trump's breakfast.
COMRADES KUBIC VISUALISTS !

LET'S SHOW EVIDENCE OF PUTIN & HIS KHACKYERS
PROPPING UP HERSELF, THE BELOVED SHAKY INEVITABLENESS !

Captain Craptek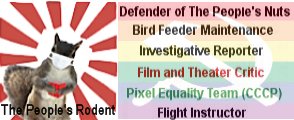 [indentr]
U.S. intelligence and law enforcement officials warn that hackers with ties to Russia or somewhere else could try to undermine the credibility of an already incredible presidential election by tweeting, un-liking, and posting documents online purporting to show evidence of voter fraud.

But, the anonymous officials said that the U.S. election system is so large, diffuse and antiquated that hackers probably would not be able to change the outcome of the Nov. 8 election too much. All the more reason to worry say election officials.

Hackers could post documents (some of which might or might not be falsified) that are designed to create public perceptions that some voter fraud has or hasn't taken place, unnamed officials were heard whispering. (unconfirmed source)

The alleged officials said that they did not have specific evidence of such a plan, and were unsure if there even was a plan. However, state and local election authorities have been warned just in case - anyway.

Everyone is warned to be vigilant. If and when hacking attempts are noticed please keep any specific information to yourself unless otherwise indicated by local commissars.
[/indentr]