jackalopelipsky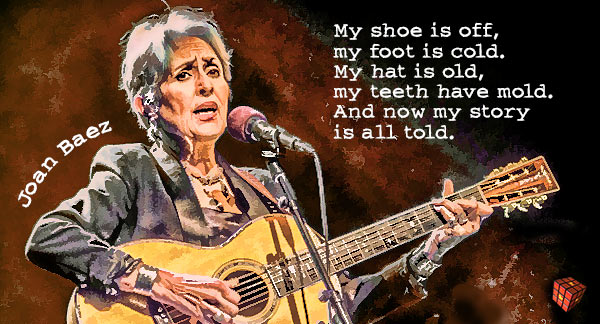 Yes, comrades, the goddess of the 60's Folk Scene, has crawled from her purple haze to attempt lyrical hooliganism one more time.
Crazy, Washed Up Joan Baez Writes Anti-Trump Protest Song and It's as Stupid as She Is
Joan Baez confesses to her failure to measure up to TPC's Karaoke Mill Standards of Karaoke Hooliganism.
[indentr]
Joan Baez, protest singer of the peace and civil rights movements of the 1960s, has gone viral with a protest song for today's Trump era, called "Nasty Man."

The song features roses in the Rose Garden telling President Donald Trump that he "owes the Earth a pardon;" pokes fun at the president for his border wall plans and Melania Trump's notable absence from the White House; and suggests that he "better talk to a shrink" for his "serious psychological disorders."

In the song, Baez also describes Trump finally falling into obsolescence: "That's my little song/about a man gone wrong./He's nasty from his head to his feet./When the dirt on this man/finally hits the fan,/and no one gives a damn about his tweets,/he'll be finally and forever obsolete."



The song, which Baez described to Rolling Stone as "not a good song, but it will make people laugh

," has garnered over two million views since the singer posted it to her Facebook page on Tuesday night.
[/indentr]
Baez is NOT TPC equal!

Red Square

Her shoe is off, her foot is cold, her hat is old, her teeth have mold, and now her story is all told.

Poor, poor Joan Baez.


jackalopelipsky

Red Square
Her shoe is off, her foot is cold, her hat is old, her teeth have mold, and now her story is all told.

Poor, poor Joan Baez.
Most excellent reeducated Karaoke ...Sing it, Direktor of ALL that is TPC Karaoke Mill and ever could be.
Joan tried to TPC Karaoke and FAILED...requiring reeducated lyric korrection from TPC in pursuit of TPC Red Revolution 2020.
Never trust a commie over 30! It's as simple as that, Comrades.
forelock tug to ALL Kreator of Karaoke Department all the way down to the Karaoke Mill, itself and it's unqualified, such as jackalopelipsky #BR 549, as well as OTHER more important Mass Hooligans of Karaoke of even legendary renown as example for 'pelipsky's disciplinary improvement. Thanking you for so graciously provided such foundtion. ('pelipsky will now just back away and hope like the dickens antlers don't catch on anything?)

Callmelennie
Well I'll be damned
Here comes that crone again
But that's not unusual
It's just so lampoonable
We're no longer in thrall


Red Square

A much better musician than Baez has just followed us on Twitter and retweeted us. Eric Carmen is a very outspoken Trump supporter and all the way MAGA.
I just posted it here:
The purges of celebrities will continue 'til morale improves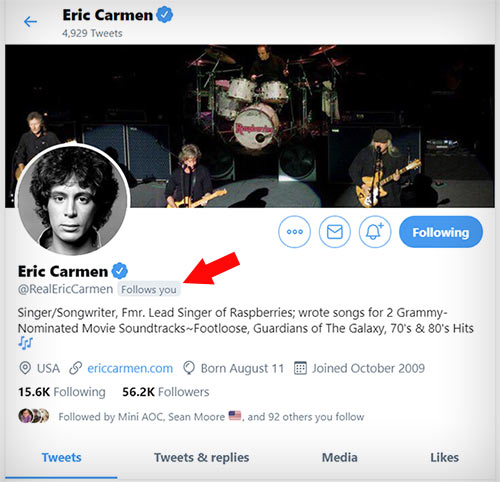 In view of such developments, we suggested to rename some of his hits with a Cubist flavor:
[indentr]
Hungry Eyes, because the harvest failed... again

I wanna hear it from your lips, Pravda
[/indentr]
And, well, "Obama's Elf" has already been done.

Warren Peas
jackalopelipsky
Never trust a commie over 30!
That brings up a foggy memory of a book, or movie, about a special utopia and someone named 'Logan' who for some strange reason wants to 'run' away from it all........