Hammer and Loupe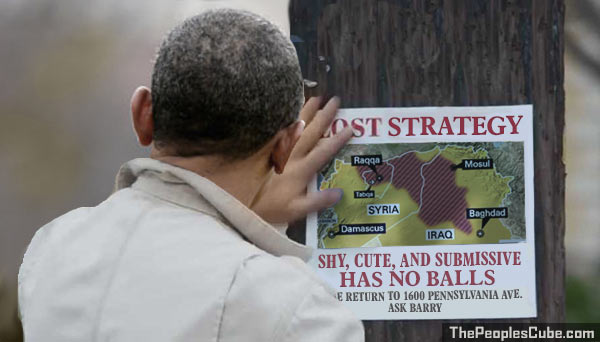 President Obama has
a plan for Iraq
, but he does not have Strategy because it seems to have
run away from the White House
.
Conceived with the purpose of helping Obama with his other plans, Strategy had
other thoughts
and turned against its creator.
Please help Dear Leader bring Strategy back to change its mind about Iraq and Syria. We are posting pictures of Strategy here and will also try to raise awareness about it on MSNBC.
There is no hurry and please approach Strategy with caution. It is considered rebellious and warlike and it may be armed with a pen. You will be awarded Obama Points for any information leading to its apprehension and bringing it back to the White House.

trashmouth


El Presidente


RedDiaperette

I wish I could think that this "lost strategy" line is itself a tactical ruse. If so, it would be far better than the administration's usual way of constantly advertising all our plans for everyone(including the enemy) to hear. But alas, it's just too much like all Obama's other genuine cluelessness -- or outright support of the enemy.

Ivan the Stakhanovets

THAT's it! It's a deception plan! Maskirovka!

Dear Leader (PBUH) is driving hard and leading fromReggie Love's behind and this will have a happy ending!

FORWARD!