Comrade Stierlitz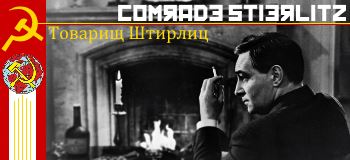 I was watching the coronation film of Queen Elizabeth II, and saw a link to her Christmas message for 2016 in the sidebar. I had already watched the film and was rewatching it, so I clicked on the Christmas message. It was nothing short of fantastic. I glanced over at the sidebar again, and saw the Obama Christmas address. Since it was made by Obama, I knew it would be stupid, but I clicked on it to see just how stupid it was. I present the two videos in question below, you can decide for yourself whose is better:
The Queen's message was very agreeable, inspiring, peaceful, and was delivered in a very dignified and respectful tone. She spoke of charity, and to an extent, service and goodwill, all values that are emphasized during Christmas and in Christianity. As an agnostic who believes that Jesus Christ was one of the wisest men in history, I very much appreciated her mentioning that she is guided by Jesus's teachings and inspiration. She also put her wishes of a happy Christmas at the end, as a lasting thought, and also closed and ended her message succinctly and beautifully. Beyond the message itself, the video looks like it was very professionally done. The military band performances at the beginning and end also add to the dignity and professionalism of the video and the message. In short, it was timely, suitable, professional, and if her
first televised Christmas message
demonstrates anything to us, it will also be timeless as much as timely.
Obama's message was filled with constant self-promotion, lying, and was not taken seriously in any way, shape, or form. He focused totally on himself. In other words, it was just like his presidency. I'd also like to call to mind that he said merry Christmas first and very quickly. It was almost like he was just getting it out of the way so that he could propagandize. He also made no mention of religion that was of any substance; like his Christmas wishes, it was just a passing phrase quickly delivered to that he could propagandize more. It was delivered in a very rowdy, disrespectful, and casual tone, things which I think do not belong in any Christmas message. In contrast with the Queen's message, this looks like anybody with a camera and a tripod could have made it. They did a very amateur job. In short, it was vacuous, amateur, insulting, and will be forgotten in a couple weeks or so.
I know it's a bit late for Christmas content, but I couldn't help but point these videos out and compare them.

Minitrue

But you have to give him this: his propaganda department did an excellent job. Here in Europistan people genuinely LOVE him.


General Confusion

The ideal solution is run King "Obama" to Germany to run against Frau Merkel
to wait for a Royal Opportunity in Africa.


Genosse Dummkopf

General Confusion
The ideal solution is run King "Obama" to Germany to run against Frau Merkel...
tsk, tsk, tsk ‒ not advisable.
Don'tcha know that reactionary forces of Krautland, on their march to Third Reich 2.0 (to goose-step this fall!), start
profiling Nafris
?
But ‒ Royal Opportunity, as Mafri (Magic Afri)? Bingo!

Major Ursa Vitnopants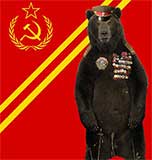 Right off the bat on the PBUH video, the heading "Your Weekly Address" struck me oddly. It wasn't "The Weekly Address", "Our Weekly Address" or other such wording. "Your Weekly Address" has a rather fascistic sound to it. Maybe it's my lack of Bi-Polar Bear guilt, but it felt like a command that I MUST stop everything, sit down and absorb Dear Leaders words of wisdom.
Both videos act as bookends with Her Majesty displaying the grace and dignity expected in a world leader whereas the second displayed all the grace and dignity one might find at a 4 year old's birthday party. The two Burns and Allen wanna be's are an embarrassment and I weep for my country.

Genosse Dummkopf

Major Ursa Vitnopants

... "

Your

Weekly Address" has a rather fascistic sound to it ...
[OFF continued]
Bingo! I got the same (subliminal) you-patronizingly-subjugated jolt.
(while the "designer" surely meant "connecting-with-folks" "the-hip-way"; aping "Trump", ja?)